---
Composer Profiles
---
Susan Allen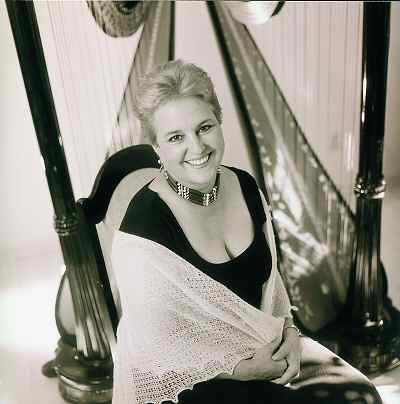 Susan Allen
---
Listen to this show


---
Susan Allen

for Full-size publicity photo of the composer (right-click and save as... to download).


to reach her page.
---
A native of Santa Barbara, California, Susan Allen is well known throughout the Americas, Australia, Europe, Russia and Asia for her world premiere performances of new and improvised music for harp on television, radio and at major music festivals.
As a harpist, her appearances have included concerts on the NBC Today Show, National Public Radio (with the Vermeer String Quartet), Gaudeamus International Music Week in Rotterdam, the Festival de Caracas, the London (Ontario) Regional Art Gallery, New York Philharmonic's "Horizons" concerts, the Ferienkurse fr Neue Musik in Darmstadt, Germany, at the Kitchen Center in New York, Carnegie Recital Hall, Merkin Hall, Weill Recital Hall, the Smithsonian Institute, the John F. Kennedy Center for the Performing Arts, the Los Angeles Festival, the nationwide Festival of Korea, Monday Evening Concerts, with the San Francisco Contemporary Music Players, Speculum Musicae, SONOR from the University of California at San Diego, and in Boston with Composers in Red Sneakers, the Pro Arte Chamber Orchestra, the Cambridge Chamber Players, and Musica Viva. Long-term collaborations with composers James Tenney, Earl Kim, Mel Powell, Harold Budd, Ruth Lomon, Morton Feldman, William Thomas McKinley and many others have yielded her premieres and recordings of major 20th and 21st century repertoire for harp. Of her solo concert debut featuring many new works, the New York Times wrote, sheer physical virtuositysensitive, expertly played.
Susan's work in improvised music has taken her to the Verona Italy Jazz Festival and the Stockholm Jazz and Blues All Star Festival, in many instances in collaboration with jazz great, Yusef Lateef. Her musical creations have been called daring improvisationsfascinating by Jazz Journal International (UK). She has performed at the Jazz Bakery in Los Angeles with a grant from Meet the Composer/Rockefeller Foundation/AT&T Program in collaboration with the National Endowment for the Arts. Allen has improvised alongside saxophonist/composer Anthony Braxton, sitarist Amiya Dasgupta and trumpeter/composer Ismael Wadada Leo Smith. She has also performed with drummer Albert "Tootie" Heath (Modern Jazz Quartet), violinist L. Shankar (WOMAD Artist), jazz great Dave Brubeck, guitarist Kevin Eubanks (NBC Tonight Show bandleader), Harpeggione virtuoso Erik Hinds, along with Russian greats Sergey Letov, Arkady Freeman, Roman Stolyar and Sergey Belichenko. Her recitals of works by women composers have been presented at the First and Second International Congresses on Women in Music (at New York University and the University of Southern California), Piccolo Spoleto in Charleston, S.C., the Women's Music Festival at Boston University, Op. 2 at the University of Michigan at Ann Arbor, and in 1988 at the Fifth International Congress on Women in Music in Heidelberg, Germany.
David Cotner of the Los Angeles Weekly wrote, "CalArts dean and persistent purveyor of the nude piano that is the harp, Susie Allen has spread the gospel of new music across the world, from The Today Show to National Public Radio, Carnegie Hall and Gaudeamus Contemporary Music Week in the Netherlands. She's lectured internationally on music in general and has recorded for Brian Eno's Opal label. A snappy studio savant as well as an intuitive improviser and an initiate on the kayagum (a Korean zither), she moves birdsong moments through trilling vibrations - inverse, obverse and beautiful."
During ten years residence in Boston, Massachusetts from 1973 to 1983, Susan was a founder of many non-profit musical organizations in that area: the Pro Arte Chamber Orchestra of Boston, the Cambridge Chamber Players, Composers in Red Sneakers and Performing Artist Associates of New England, all of which continue to enhance the cultural life of Bostonians to this day.
Active in the performance of music for harp and electronics, having presented one of the first recitals devoted exclusively to the medium in 1984, Susan has appeared under the auspices of the Society for ElectroAcoustic Music in the U.S. at New York University, at M.I.T. in Boston, at Stanford University, at the SCREAM Festival in Los Angeles, and at Paseo Nuevo in Santa Barbara, CA. El Naconal in Caracas, Venezuela wrote, Susan Allen is a sort of paradigm for the female world and a first-rate harpist: expressive and with a magnificent ability.
She has premiered numerous electro-acoustic works, including "Fantasy" for harp & live electronics by Canadian composer David Myska (commissioned by the Canada Council). In 1998, she took the first electric harp to India for improvised concerts with L. Subramaniam, Larry Coryell and Miya Masaoka, soloists with Susan Allen, backed by a group of Indian drummers, both North and South.
Susan has recorded for Warner Brothers/Opal, Nonesuch, Vox, New Albion, Nine Winds, 1750 Arch, Meta, Black Saint/Soul Note, Galaxia, Flying Fish, Milan, ERMATELL (Siberia) and Cold Blue. She holds a BFA from the California Institute of the Arts, where she is a member of the performance Faculty, and an MA and Ph.D. in Sociology from Schools on Borders. Susan also plays the Korean kayagum, which she studied with virtuoso Ok Ja Paik. She has been published in the journal Parabola, and has written numerous papers on free improvisation which have been presented at the International Bertholdt Brecht Symposium, the International Association for the Study of Environment, Space and Place, and the International Association of Translation and Intercultural Studies. In 2005 she traveled with the organization 'Ephemera' on their first conference on the trans-Siberian railway from Moscow to Beijing, China. After her solo recital of new works in Darmstadt, Germany at the International Summer Course for New Music, the Darmstdter Echo called her "a sovereign interpreter".
In 2004, she received a residency at the Sitka Center for Art and Ecology in Otis, Oregon, to write her book about free improvisation, "Arcade of Desire."
Susan holds an annual summer course both internationally and in Pacific Palisades, California, for harpists of all ages and levels.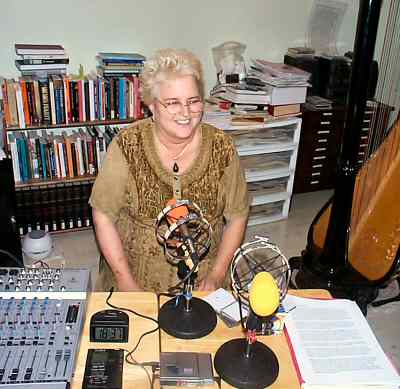 Susan Allen at her home with K&D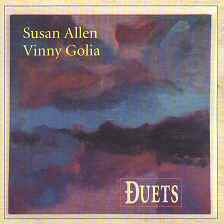 Duets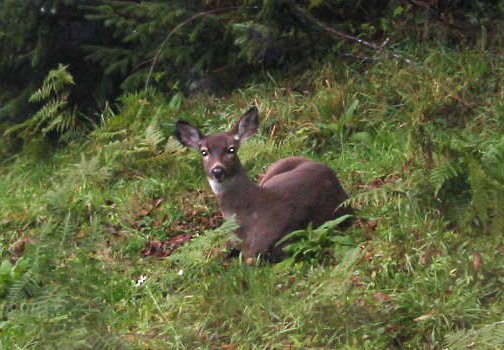 Doe in Oregon During Residency

---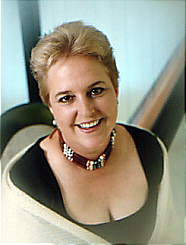 Susan Allen

---
To reach the composer:
On-line: Visit her home page
---