To all visitors: Kalvos & Damian is now a historical site reflecting nonpop
from 1995-2005. No updates have been made since a special program in 2015.


Chronicle of the NonPop Revolution
---
Frequently Asked Questions
...or ones we hope you'll ask
---
---
This page was briefly updated in September 2009. Most stuff is now correct.

What is this place, anyway?
The Kalvos & Damian New Music Bazaar -- now called In the House -- is a radio show and website bringing composers and their music to the wider world through concerts, interviews, pictures, photos, artwork, essays, biographies, attitudes, catalogs and ideas. The Bazaar was begun in 1995 solely to present the eclectic world of newly composed music in a try-it-you'll-like-it format, and to connect composers with each other and with audiences. The K&D is sponsored by grassroots organizations in our Vermont home -- originally WGDR-FM and Goddard College, and still by the Consortium of Vermont Composers, the Vermont Contemporary Music Ensemble, and is produced by Malted/Media Productions -- but lives to hear music from around the world. Contributions to K&D and the VCME and the Consortium are welcome, and contributions of monetary support, new recordings, and supplies (PC equipment, CDRs, flashcards, etc.) to the VCME's tax-exempt Kalvos & Damian Program Fund are invited. Please use the Contact Form for information on how you can help.

Are Kalvos and Damian bogus?
Hey! These may be mythical guys alternately played by Dennis Báthory-Kitsz and David Gunn, but they're real flesh are both pretty darn good composers themselves.
Dennis is the K&D webmaster as well as the founder of Malted/Media, and has created odd things like the performance piece Echo and Stoneworld/Grey, and has a CD you'll want to buy called Detritus of Mating and a cool MP3.com site. He's also got a very popular Erzsébet the Vampire website. His past includes such events as the Delaware Valley Festival of the Avant-Garde.
David is the mastermind behind the erstwhile Leisure Weasel World and his own website, and the author of short stories and a body of quasi-lit. His music grows in popularity every year, with performances locally and around the world.
The two composers have collaborated not only on musical goodies like the chamber opera Plasm over ocean, but also on two books, the moderately informative and vastly humorous The Middle-Aged Hiker and the sci-fi masterpie..., uh, minipiece novel The Karmora Papers. They are also co-directors of Il Gruppo Nuke Jitters, a contemporary music performance ensemble, and work as writers and editors for The Transitive Empire.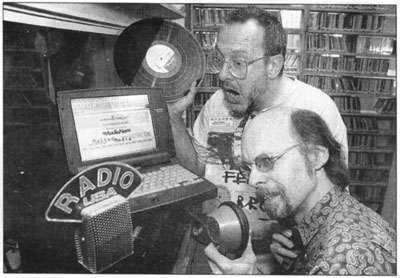 Photo by Stefan Hard

What will I find here?
You're invited to look around, especially at the individual composer pages. Start at the New Music Bazaar/In the House homepage itself, or the list of all the composers and performers who've been on the show. We're a radio show, so you can steal musical ideas from our extensive playlists -- and, best of all, you can listen to complete, two hour broadcasts. The Best of the Bazaar offers sound mixes and splices culled from our shows and worked into Damian's unique audio art objects, and you can read his introductory essays to the show. Finally, since we're on the ground in beautiful rural Vermont, we give some space to our sponsors, the Vermont Composers Consortium, their clever newsletter Consorting and the talented Vermont Contemporary Music Ensemble.

How can I be part of this?
Be a composer or composer/performer, and contact us. If we think you'll add an interesting dimension to our interview programs -- and if you have a doggone good sense of humor -- we'll ask you to join us In the House. First read our all-important Submission Guidelines and Clearances, then you can reach us by email at Contact Form or by mail at Malted/Media, 176 Cox Brook Road, Northfield, Vermont 05663 USA. Naturally, you can also contact us to make your tax-deductible contribution to the show's production.

Where can I hear the Bazaar?
From 1995-2005, the Bazaar was broadcast live every Saturday afternoon from 2:30 to 4:30 (1930 to 2130 GMT) on WGDR in Central Vermont on 91.1 FM and via our live cybercast. You can hear our complete archive here on KalvoNet. After 2005, we went virtual only, and that same KalvoNet is where all the shows after 2005 live. Check out our homepage for regular announcements as archived shows are posted. We can also be heard occasionally on WOMR 92.1 FM in Provincetown, Massachusetts.
You can also find us in a number of places with several projects. Kalvos & Damian is accessible via kalvos.org, kalvos.com, kalvos.net, newmusicbazaar.com and newmusicbazaar.org. Our projects are the Ought-One Festival of NonPop 2001 at ought-one.com, plus the slowly developing nonpopradio.com and nonpoptv.com.

How do I play the sound and interview clips?
You need a sound viewer or browser plugin. This explanation gets complicated because we've been around for so long. Let's just say that all shows after August 3, 2002, are in mp3 format.
Before that we used RealAudio and TrueSpeech, and you can get older versions from our site.on our viewers page. We understand Macs no longer support the versions of RealAudio we used from 1995-2002, but Windows (through XP at least) supports it. As an all-volunteer operation, chances are the old shows will never be updated -- but old computers are plenty cheap and will play the shows fine.

Hey! I know that composer! How do I get in touch?
We have contact information for all the composers on their individual pages. Please check there, and write or email them directly. We respect our composers' privacy if they ask, so some of them have a minimum of contact information, or none at all. For the 'unreachable' composers, we'll be happy to forward any email you send to us through our contact page.

Couldn't this site be, like, kewler?
Probably. But we spend our time making sure it's easy for you to find your way around without being a nethead or getting the hottest, latest whatever. We also have a big interest in accessibility, as Kalvos is report author for web accessibility company OrbitAccess. So whatever you think of our design, remember that music is our message, not gear. (But, uh, contributions help, as well as volunteers to make transcripts of the shows.)
We know, we know. After nearly 15 years, the K&D site has incomplete pages and broken links. Ignore it all. We're really here for the composer interviews. That's the good stuff.