To all visitors: Kalvos & Damian is now a historical site reflecting nonpop
from 1995-2005. No updates have been made since a special program in 2015.


Chronicle of the NonPop Revolution
---
Tools We Use for Kalvos and Damian
---
Here at K&D, we've been using a variety of recording and manipulation tools, some for the show, most for our own work.
This list from February 23, 2010
We presently run all Windows XP SP3 systems with DirectX 10 in our K&D home studios, using 3GHz Intel Core Duo processors on Gigabyte EG45M-UD2H motherboards, Athlon 1.4GHz processors on Iwill KK266, 50% overclocked Celeron 300 and 600 MHz processors on Abit BX boards. We run a WinGate 5 network.
Monitors are a ViewSonic (horizontal) and Benq (vertical).
CD/DVD burners include four Sony internal and one Sony external, with Maxtor and WD 7200rpm hard drives (7 internal and 8 external) for a total of 6TB of storage. We get our supplies from ADK Pro Audio and Art Munson.
Our main scanner is an Epson (we have two backup HPs and an old Relisys 3-pass unit for funky effects) and a Nikon Coolscan IVED for slides and film, and Xerox P12 and Brother laser printers, an HP1220C large-format inkjet, a Canon Pixma i4000 and an Epson R200 (our first inkjet was a BJ-5, and before PCs we used the very custom TRS-80 about which the book was written).
Our sound is a Focusrite Saffire Pro40 in the studio.
The outboard mixers are Mackie 1202, a Behringer 1604A, and a Behringer UB1622-FX Pro with Behringer 2496 preamp and occasionally an Alex Reverb..
We use a Stanton ST8-80 turntable with digital outputs to convert and clean LPs, 45s, and 78s before broadcast, and a Panasonic SV-3700 rack DAT player for our older shows and interviews (thanks to Noah Creshevsky for that), along with Sony MZ-R37 minidisc player for older interviews.
We record in the field on a Microtrack II using Studio Projects C-4, Cascade M-20, Marshall MXL V57M, Oktava 012, Coresound binaural, AKG AT-822, single-point stereo, Nakamichi CM100, and Radio Shack PZM microphones.
Our studio monitors are Roland RSM-90s with a HSU Research subwoofer, powered by two Samson 120 power amps.
We still have a pair of Proteus MPS Orchestral synths and a Proteus FX, plus enough old equipment to outfit a museum, including TEAC, Tandberg, Fostex, Yamaha, dbx, etc.
Collectively, here's what software we use at K&D's studios:
Music/Sound Creation and Production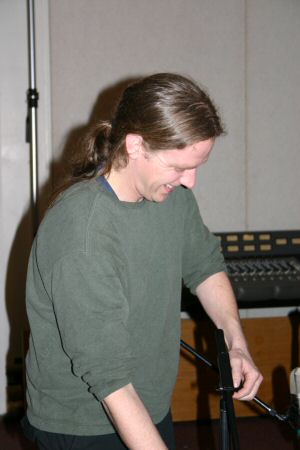 Not a Tool?
Bert Klunder sets up in Studio Z.
Bert is K&D's sound architect of choice.
Finale scoring software from MakeMusic. We started with version 2.2 in 1993, and now use version 2010. Attention! We do not approve of tethered software Please read my essay about this issue.
Sonar multitracking software from Cakewalk. We started with Cakewalk 2 in 1993, and now use Sonar 2.2. We have not upgraded further because its features are not useful for new nonpop.
Adobe Audiltion recording software. We started with the first version of Cool Edit, whenever that was, and now prefer version 1.0 of Adobe Audition. Version 2 has some serious defects for our purposes, but we have to use it for laptop recording. We also use Audacity occasionally.
Ozone mastering software from iZotope. We started with the first version and now use 3.0.
DX plugins:

sfz+ software synth from LiveUpdate.
AnalogX plugins for vocoders, gate, phase, etc., from AnalogX.
Vinyl effects generator and Spectron analysis/synthesis software from iZotope.

AudioMulch sound generation tools set from AudioMulch. Version 1.0.
Analog Box synthesizer from AndyWare. Version 2.34.
MIDImage image-top-MIDI converter from Brute Force Programming. Version 2.3.
The Voice image-to-audio converter from Seeing With Sound. Version 1.44.
a Musical Generator object-to-sound converter from MuSoft Builders. Version 2.0.
Spectrogram visualization system from Visualization Software. Version 6.6.
Coagula "industrial strength color-note organ" from Rasmus Ekman. We just started using this, version 1.4.
We do like and use also: Aleatoric Composer, Quasi-Fractal Composer, SMS Tools, SynthEdit, Tangent
We have, but do not much use or like: All in the Score, Awave, Csound, Finale Notepad, Lime, PD, Prie, ProTools, SimSynth, SMoRPhi, Soundforum Synth, The Playa, Twizla, Virtual Sampler, Buzz Machine, Svelte, Will Play Anything, Audio Compositor. Soundforum Synth keeps crashing or we'd use it; Virtual Sampler is just a memory hog and the LiveSynth Pro DXi is much more useful (though Virtual Sampler does convert Akai format to SoundFonts).
Conversion and Utilities
We use Adobe Audition for creating mp3s.
Exact Audio Copy from Exact Audio Copy.
imgburn for CD burning and for cue sheets, the only really decent and reliable overall burning software out there.
We do like and use also: CDR Identifier (now unavailable), WaveZip and VVMic B-format decoder..
We no longer use: CDRWin (they seem to have vanished even though their website exists), CDeX, Music Match, On-Demand Producer, WinDAC32, Xing MP2 Encoder, Zwei-Stein, Real Producer, LAME (only because we use Audition), RA2WAV, MMWave, and MP3Pro.
Players and Encoders
Windows Media version 6.4, 7.0 and 10.0 and Windows Media Encoder.
Real players 1, 2, 3, 5, G2, 8 and RealOne
Winamp 2.5 (legacy)
Thompson MP3Pro 1.0 (legacy)
DivX 5.x
FLAC 1.7
Due to its system invasiveness and instability on all our computers, we do not use any version of QuickTime. We encourage Microsoft to include these codecs in the Windows Media Player.
Graphics, Media and Miscellany
Sony Vegas Movie Studio Now using version 9.0 platinum. This started out from Sonic Foundry and is still one of the best values availalble, worthwhile as an audio as well as video editor.
Paint Shop Pro from Jasc. We still use this (version 9, before Corel bought it) and have used this since version 3 or before.
Photoshop LE, Photoshop Elements 2.0 and the crappy 7.0 and Canon Digital Photo Professional and Sigma Photo Pro 3 to supplement to PSP software above, for the subtle stuff.
Virtual Dub video editor from Virtual Dub..
Pagemaker from Adobe.. Using the last version made, version 7.
Webber32 from ExperTelligence for HTML editing. No longer available. This is really a text editor that shows HTML in various colors; we still hand-code at K&D and like this old tool. Yes, we still use it.
For text of various kinds we use OpenOffice 3.1 Ghostscript, Font Creator 5.6, American Heritage Dictionary 3 and 4, Search and Replace HTML, Babylon Translator and Systran Personal Translator.
Our net work is done with Firefox 3, WS_FTP Pro 7, Putty SSH, NetLab 1.4 (no longer available) Wingate 5, VNC 4, and Eudora 7. Our pages are tested on Google Chrome, Opera 9+, Internet Explorer 5+, Netscape 3+, Lynx 2+, Firefox 3+ and IBM Home Page Reader 2.5+..
Other software we use for K&D for one reason or another is Axialis AX-Cursors, AVIedit, Spybot Search & Destroy, Comodo Firewall Pro, API Powerchute, avast! anti-virus, etc.
We no longer use GIFCon Professional, ScreenCorder, MAGpie, McAfee, AOL, etc.
---