---

The AmsterDramm Project
---
The AmsterDramm Project was a live simulcast (radio and Internet) of Kalvos & Damian's New Music Bazaar in an interview with composers David Dramm and Ann La Berge, along with a live concert of their music, on September 12, 1998. Also participating were many other composers and artists. The concert took place in STEIM's concert hall in Amsterdam as a finale to the annual Gaudeamus Music Week.
The 5-hour program 2:30-7:30pm EDT (1830 to 0130 GMT) was broadcast in the United States on WGDR-FM in Plainfield, Vermont (until 6pm), and cybercast to the Northeast US from its RealAudio server, with a USA-at-large mirror provided by Jesse Kanner Internet. In the Netherlands, the concert will receive delayed broadcast in Amsterdam and received immediate cybercast by VuurWerk Internet via high-bandwidth ISDN, and they provided the main feed to the United States as well.
David 'Damian' Gunn anchored the U.S. side of the interview from the WGDR studios, and Dennis 'Kalvos' Báthory-Kitsz was in Amsterdam at STEIM. The live interview and concert welcomed composer luminaries from the Netherlands. Pre-recorded segments of music filled out the program.
This was be one of the first broadcast/cybercasts of an extended live exchange via an Internet connection worldwide, and had only a few minutes of downtime -- one of the most successful experiments in the new technology. Kalvos & Damian's New Music Bazaar is seeking funding to meet extensive technical requirements, provide publicity, and cover production expenses.
Click here for the AmsterDramm Cybercast Page [closed]
Click here for the pictures (and soon audio!) of the AmsterDramm evening!
Click here for the AmsterDramm Funding Page
---
Finale Schedule
1830 GMT / 2:30 EDT
Show intro and Damian's essay
Introductions
David Dramm and Analecta on CD: Body-O-Graphic
David Dramm live: Passacaglia
David Dramm live: Ladder
Talk
---
1905 GMT / 3:05 EDT
Talk with Jacqueline Oskamp
David Dramm on CD: Vin Scully
David Dramm live: I Hate My Dog
Huib Emmer and experimental techno
Huib Emmer: Positief Zweet
---
1935 GMT / 3:35 EDT
Talk with Louis Andriessen about ensemble culture
Louis Andriessen on CD: Hout
Talk with David Dramm and Louis Andriessen
David Dramm on CD: High Octane, third movement
Talk with David Dramm
---
2010 GMT / 4:10 EDT
Talk with Ruth Dreier
Ruth Dreier live mix improvisation
Talk with David Dramm and Anne La Berge
David Dramm and Anne La Berge live

Black Whale
Bolero
Bad Day Fishing
Little Betty Falling Star
---
2050 GMT / 4:50 EDT
Art Songs
Talk with David Dramm and Philip Mechanicus
David Dramm solo live: Hello Pop Tart
Tomoko Mukaiyama on CD: Hello Pop Tart
Talk
David Dramm Art-as-Art
---
2120 GMT / 5:20 EDT
Anne La Berge and Nick Didkovsky
Talk
Anne La Berge live: Thrash & Variations
Anne La Berge live: fixiation
Commentary from Nick Didkovsky
Nick Didkovsky on CD: Orion
Kevin Whitehead tells the 'Tuck' story
---
2205 GMT / 6:05 EDT
Talk with Frances-Marie Uitti
Frances-Marie Uitti: Three Improvisations
Talk with Clarence Barlow
New piece by Clarence Barlow piece (tentative)
---
2240 GMT / 6:40 EDT
Arrangements by David Dramm
Talk with David Dramm
John Cale: Dying On The Vine
Junkie XL: Metrolike/Saturday Night Kick
David Dramm solo live: San Antonio Rose
---
2310 GMT / 7:10 EDT
Talk with David Dramm
David Dramm on CD: Beebe Lake Ice Cut
---
Cybercast ended approximately 2330 GMT / 7:30 EDT
---
Preview Features!
---
Biographies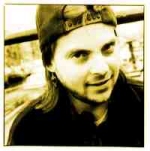 David Dramm was born in Illinois, growing up in San Diego, California. His composition studies began with Robert Erickson at University of California, San Diego, and later at Yale University with Louis Andriessen and Earle Brown. The Volkskrant described his music as "ground-breaking terrain between Charles Ives, Jimi Hendrix and Lou Reed." The NRC Handelsblad wrote, "As rock musician, writer and composer, Dramm is creating a furore in Holland." His performances include appearances in the Amsterdam Concertgebouw, the BIM-Huis and the pop temple of Europe, Paradiso.

His music has been performed regularly throughout Europe and elsewhere including Freunde Guter Musik in Berlin, New Music Days In Tallinn, Estonia, and the Finnish 'Time of Music' Festival. Recent commissions have included works for ASKO Ensemble, Orkest de Volharding, Aurelia Saxophone Quartet, Frances-Marie Uitti, and an extended video project with Hotel Pro Forma (Copenhagen) in collaboration with flutist/composer Anne La Berge. In addition to his composing activities, Dramm performs with the avant-rock group Analecta, whose CDs are available on X-OR. Other recordings are available on BVHaast, Vanguard Classics, and Composer's Voice. Dramm's music is published by Donemus and Saprophone Music.

Kalvos & Damian's New Music Bazaar is a radio show and website bringing composers to the wider world through their music, interviews, pictures, photos, artwork, essays, biographies, attitudes, catalogs and ideas. The Bazaar exists solely to present the eclectic world of newly composed music in a try-it-you'll-like-it format, and to connect composers with each other and with audiences. The Bazaar is sponsored by grassroots organizations in our Vermont home--WGDR-FM, the Consortium of Vermont Composers, the Vermont Contemporary Music Ensemble, and Goddard College, and is produced by Malted/Media Productions. On the air since early 1995, the program has interviewed composers from the United States, Canada, and Europe, has an extensive list of resources for and by composers, and offers music and interview clips, photographs, and important essays by the world's composers. More than 130 archived shows are available on its pioneering website, along with its live cybercast.

The Gaudeamus Foundation is a center for contemporary music that organizes and promotes contemporary music activities and concerts both in The Netherlands and abroad. Founded in 1945, Gaudeamus focuses on supporting career development of young composers and musicians through its library facilities, contacts with international organisations and its own activities. Every year the International Gaudeamus Music Week focuses on music by young composers. A jury of internationally reputed composers selects the compositions for performance during the festival in September in Amsterdam. After listening to performances of selected scores during the Music Week, this same jury awards the Gaudeamus Prize for the best composition. At the present the International Gaudeamus Music Week has become a unique event which informs the world about young people's new music.

STEIM offers research residencies, assistance with custom software and instrument design, studio facilities and other forms of support to performance artists. The creation of unconventional instruments and the adaptation of existing ones to fit new ideas are part of STEIM's daily work. Our work is primarily geared towards the development of new musical instruments and software for performance. This is realised by offering research residencies, assistance with custom software and instrument design, studio facilities and other forms of support to artists. Whilst the main focus of our work is on music, STEIM is open to collaborations in all the varieties of audio and performance art. STEIM has deservedly become an international meeting place for the electronic arts where technology is kept in its place and the emphasis is on music, image and performance.
Malted/Media produces arts events, concerts, performance events, multimedia productions, and websites. It includes music publishing and performing ensembles. Malted/Media is associated with musicians and artists across the world.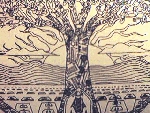 WGDR Community Radio is a hybrid structure that is staffed and funded by Goddard College and the community members of central Vermont.

VuurWerk Internet is met ruim 2700 sites niet alleen de grootste maar ook de snelstgroeiende gespecialiseerde webhosting provider van Nederland. Het uitzicht vanaf de derde etage van het kantoorpand van VuurWerk aan de gedempte oude gracht in Haarlem.
---
The AmsterDramm Project is created in cooperation with
USA - East
USA - West
The Netherlands
The AmsterDramm Project is funded by
DoDaDa Idea Co.
Several anonymous contributors
---
Kalvos & Damian's Advisory Board
---
The AmsterDramm Project with Kalvos & Damian
AmsterDramm Production
Host in Amsterdam:
Dennis Báthory-Kitsz
Host in Vermont:
David Gunn
Engineer at STEIM:
Paul Jeukendrup
For VuurWerk Internet, Haarlem:
Arjen van Drie
For Kanner Internet, California:
Jesse Kanner
Production and Support at WGDR
Stu Bautz
Brad Baudet
Bert Klunder
Phil Schutt
Ravi Nielsen
Assistance in Vermont was provided by
Assistance at STEIM was provided by
Particpating artists in order of appearance
David Dramm
Anne La Berge
Jacqueline Oskamp
Huib Emmer
Louis Andriessen
Ruth Dreier
Philip Mechanicus
Tomoko Mukaiyama
Nick Didkovsky
Keven Whitehead
Frances-Marie Uitti
Clarence Barlow
---