---
War and Peace
October 8, 2000
---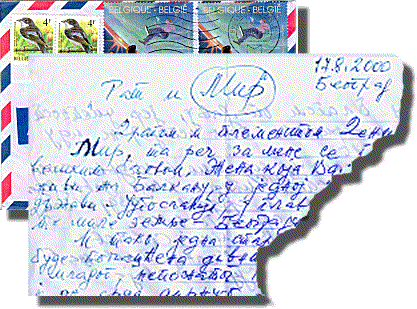 It's not often that I post items of a personal nature, but in the summer of 2000, my role as Kalvos placed me into an interesting situation.
The exchange began on July 24, 2000, with an email that arrived to Kalvos and Damian via our kalvos.org address:
Mon, 24 Jul 2000 19:28:20 +0200
Hello from Brussels,

I am wondering whether you can help me.

For some time I have been looking for a vinyl disk of Prokofiev's opera War and Peace recorded by Heliodor. And finally I have found it in your list under:

War & Peace
1.Sergei Prokofiev: War & Peace, Overture. Vienna State Opera Orchestra, Werner Janssen, conductor. Heliodor LP HS-25039-3.

I suppose that you have the complete disk and would like to ask you what are my chances to get it (or a CD with the recording from that disk, if that' s legally acceptable).

Thanks in advance for your help,
Zarko Sivcev
At Kalvos & Damian, we all too often get requests for copies of recordings, and always turn them down. Aside from the time it would take, we're also attentive to the composers who scratch out a living with a few pennies of royalty. But this request made me curious. Prokofiev was dead, and the recording was decades old. I wrote back:
Mon, 24 Jul 2000 01:35 PM -0500
Beste Vladica,

It's 3 LPs. Chances of me having the time to copy it are very, very slim. Why do you want it? I don't believe there's any reason I need to keep that particular version -- though it's a very good one. Is "War and Peace" completely out of print? Or is this version special? Tell me more, and perhaps there's a way of working something out.

Groeten,
Dennis
That would be the end of it, I was sure. Another day of K&D email done. But it wasn't done. Minutes later came a response from Belgium:
Mon, 24 Jul 2000 20:08:59 +0200
Hi Dennis,

This version means something to me as my mother sang the role of Akhrosimova (Ljubica Vrsajkov). She is now 74 and thinks that it is the best recorded peace of her singing. However, she does not have the record but would love to have it, to listen to it, to show it to her students (she gives singing lessons) and finally, to leave something from her career to my brother and me.

Now, if it is out of print, I do not know. It is possible, as it is a disk from 1961. I have been looking for it in Belgium, so far without any success.

So that's the story. Thanks for giving me hope,

Ciao,
Zarko
Best recorded "peace" of her singing? I liked that typo. The dove was with us. So I sent the set of LPs that afternoon to Brussels, asking that Zarko exchange it for a CD recording of Prokofiev's War and Peace (an opera I really do like) and a souvenir of his choice -- though not beer, which I doubted would make it through customs. The Internet is full of scams, but I rode on my gut feeling that this wasn't another orphan-needs-food chain letter. After all, who would really want War and Peace in a 40-year-old Heliodor budget release that I picked up as a $2.99 cutout at New Jersey's old E.J. Korvette discount store? Even some of my rare LPs don't fetch more than a few dollars in this age of CD reissues.
And so off it went. All passed in a single day, both emails and the package.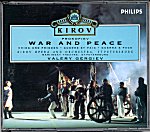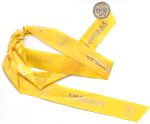 I thought about it now and then, hoping my gut was still a reliable gauge of intent, even at a 5,000-mile distance. Then, in mid-August, I received an unsealed package with Belgian postage stamps. The box had simply been closed and not taped, and the contents had survived the transAtlantic journey intact: A letter from Zarko, a brand new CD copy of War and Peace ... and a box of Belgian chocolates!
Zarko's letter read:
Brussels, 10th August 2000
Dear Dennis,

"It gives me hope," said one of my friends when I told her the story about "War and Peace" and your wonderful gesture. And she probably desscribed best how I felt after our exchange of e-mails. I was so overwhelmed that I had to share it with my friends and family.

My mother was delighted when she learnt about the disks. She actually does not live in Brussels but in Belgrade, Yugoslavia. I've hoped that I would be able to send her letter alongside this one but she wants to send you a photo or two, hence her letter will come to you shortly after this one.

I was very happy when I managed to find CD with the entire "War and Peace" produced by the Kirov opera in St. Petersburg. By coincidence, today's The Economist published an article on Prokofiev's operas where they wrote in positive terms about teh production of the opera I am sending you.

When you said that you would appreciate getting something small from Belgium, and that the beer was out of the question, I did not have too much of a dilemma -- Belgian pralines. Enjoy!

I would be very happy to meet you. If/when you come to Brussels, I would be more than glad to show you around and have a few beers together.

Thank you so much and all the best
Zarko Sivcev
It wasn't long afterward that Ljubica's letter arrived, handwritten in Cyrillic characters. I had forgotten that Cyrillic was used in Yugoslavia. Hmm. I remember driving to the border between Italy and Yugoslavia at Trieste in 1992, just as the civil war was beginning, wondering if I should go in. Seeing the alphabet, I turned back. I wonder what would have happened? But no matter now, because in this new century, everything was different, even if the alphabet had not changed. Zarko had translated his mother's letter. It read: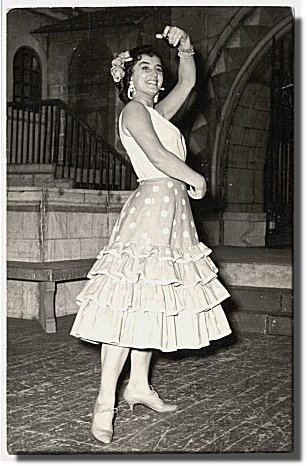 17/8/2000, Belgrade
"War and Peace"

Dear and kind Dennis,

Peace, in my opinion, should always be spelt with capital P. The woman who writes to you lives in the Balkans, in Yugoslavia and its capital, Belgrade.

And so, it happened that an old woman be honoured by a wonderful gesture of a young stranger that moved me profoundly. People say "From a heart to heart." It is too little to say thank you, but you, dear Dennis, have made me the most beautiful gift in my life (excluding my family).

I am opera singer, member of the world reknown Belgrade Opera. I have begun my career with important roles such as Carmen in Bizet's opera and Azzuchina in Verdi's "Il Trovatore".

In the meantime, however, I have performed my two most important roles: I have given birth to two sons. My elder son, Zarko, who is 40, you already know. My younger son's name is Milan, who is 36 and has a beautiful voice.

I am sure that your mother could be proud of you. I give you, my dear Dennis, my most sincere greetings.

Ljubica VRSAJKOV SIVCEV
Belgrade
Yugoslavia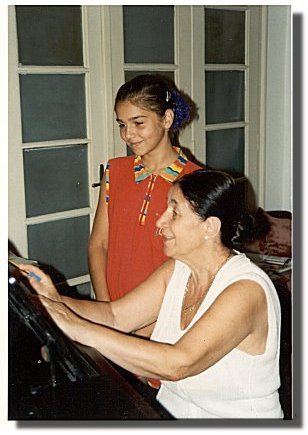 Zarko's email address doesn't work anymore, but I do have his postal address. I hope all is well with him and his mother, who now teaches voice "to students of 4 to 44", according to her recent photo. I'll take him up on that beer, and next time I'm at the Yugoslav border, I won't turn back.
---