---
Composer Profiles
---
Claudio Calmens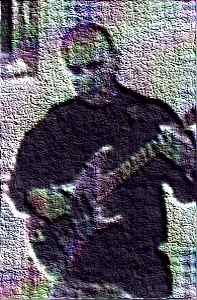 Claudio Calmens
---
Listen to this show


---
Claudio Calmens

for MP3 streaming version of Canes mas que finales, 2:51


for MP3 streaming version of Tropos, 1:52


to reach his page.
---
Claudio Calmens
Claudio Calmens (born in Baha Blanca, 1962) have been composing and performing experimental music, including works with electroacoustic medias.
Some of his works are: "Sol Freud", from 1996, a literary-musical work stemming from compositional principles of pataphysique; "Gotas y Metal", an aleatoric sound piece consisting in metal objects (vessels) drummed on by drops of water on the live stage, from 1997; "El Zapallo Que Se Hizo Cosmos" ("The Pumpkin That Became Cosmos") also from 1997, using voice processings, and based on a text by Macedonio Fernndez; "Poemus 1, 2, 3, 4, 5, composed between 1997 and 1998 for narrator and either computer or digital recording, with texts of Oliverio Girondo; "Futilidad" ("Futility"), a story created around a phonetic game involving a single consonant (f) which either occurs or predominates in the majority of the words of the text; Sweet Vivi for electric guitar + midi, from 2000; and Higer Falls, electro acoustic piece from 2001.
During February of 2001, he visited the United States, sponsored bythe Dartmouth Dickey Endowment for International Education, and Frog PeakMusic, (a composer's collective). Larry Polansky, the Chair of the Dartmouth College Music Department, and the Warren Burt, an American musician living in Australia, composed pieces especially for Calmens's tour:
On this tour, Calmens both gave solo concerts and performed in duetwith Polansky; he also held two improvisational sessions with the ChristianWolff-Larry Polansky-Kui Dong Trio. The venues included Dartmouth College,Bates College (the annual concert sponsored by the Alvin E. David Endowment Foundation), OutpostPerformance (Albuquerque, NM), Open Space-Deep Listening Foundation(Kingston, NY), Galapagos Art Caf (Brooklyn, NY), and Kalvos & Damian'sNew Music Bazaar (web radio). During 2004 september and october he has been invited to participate to the Podewil Cultural Center in Berlin playing solo and sharing the Ensamble Otro directed by Guillermo Gregorio .
Where Claudio teaches...
---
---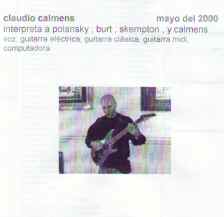 Claudio Calmens Interpreta...
---
To reach the performer:
On-line: Visit his home page
---