---
Composer Profiles
---
Joel Chadabe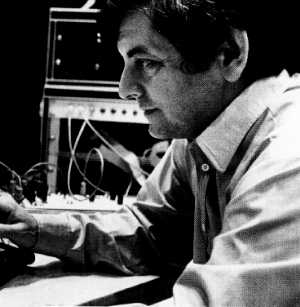 Joel Chadabe
Listen to this show


---
Joel Chadabe
Click here

for RealAudio comments by the composer, [not yet available].
Click here

for RealAudio 3 mono version of
Valentine
, 3:45 (
RA2 / 14.4 version
)
Click here

for RealAudio 3 stereo version of
Valentine
, 3:45
Click here

for TrueSpeech version of
Valentine
, 235K
Click here

for MPEG-2 version of
Valentine
, 882K
---
Joel Chadabe
is an internationally recognized pioneer in the development of interactive music systems. As composer and performer, he has concertized worldwide with Jan Williams, percussionist, and other musicians since 1969. He is listed in the
International Who's Who of Musicians
and the
Who's Who in American Music
. His articles on electronic music have appeared in
Computer Music Journal
,
Contemporary Music Review
,
Electronic Musician
,
Perspectives of New Music
,
Electronic Music Review
,
Melos
,
Musique en Jeu
, and many other journals and magazines, and several of his articles have been anthologized in books by MIT Press, Routledge, and other publishers. His music is recorded on Deep Listening, CDCM, Centaur, Lovely Music, Opus One, CP
2
, and Folkways labels. He has received awards, fellowships, and grants from the National Endowment for the Arts, New York State Council on the Arts, Ford Foundation, Rockefeller Foundation, Fulbright Commission, SUNY Research Foundation, New York Foundation for the Arts, and other foundations. He has been President and Chairman of Composers' Forum, Inc., in New York City. He is currently on the faculties of the University at Albany and Bennington College; President of Intelligent Music, a research and development company; and founder and President of Electronic Music Foundation. Mr. Chadabe has a B.A. degree from the University of North Carolina at Chapel Hill and an M.M. degree from Yale University.
---
Chadabe Discography
After Some Songs (1987-1994), a collection of short compositions for computer-synthesizer and solo instruments, some based on jazz classics, some not., Deep Listening CD 001, 1995
Rhythms: Variation VI (1982), violin, flute, vibraphone, electronic sounds on tape. On "Capitol Chamber Artists", Centaur Records CRC 2071, 1992
Modalities (1988), computer/synthesizer. On "CDCM Computer Music Series Volume 7," iEAR Studios at Rensselaer Polytechnic Institute., Centaur Records CRC 2047, 1990
Rhythms (1980), computer/synthesizer and percussion., Lovely Music, Ltd. LP 1301, 1981
Settings for Spirituals (1977), computer-generated accompaniments for spirituals sung by Irene Oliver, and Solo (1978, revised 1981), computer/synthesizer., Lovely Music, Ltd. LP 1302, 1985
Flowers (1975), solo stringed instrument and electronic sounds on tape, and Echoes (1972), solo instrument and electronics., CP2 Records CP2/2, 1977
Echoes (1972), solo instrument and electronics., Folkways Records FTS-33904, 1975
Ideas of Movement at Bolton Landing (1971), electronic sounds on tape., Opus One Recordings #17, 1974
Street Scene (1967), solo English horn, tape and projections., Opus One Recordings #16, 1973
---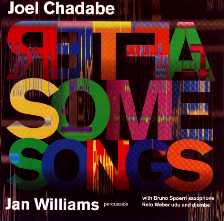 After Some Songs
---
To reach the composer:
On-line: chadabe@aol.com
By telephone:
By fax:
By physical mail:
---