To all visitors: Kalvos & Damian is now a historical site reflecting nonpop
from 1995-2005. No updates have been made since a special program in 2015.


Chronicle of the NonPop Revolution
---
Composer Profiles
---
Michael Edgerton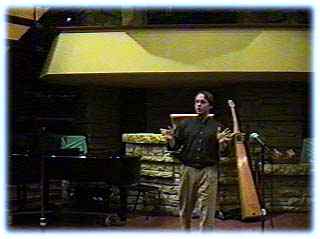 Michael Edgerton
---
Listen to this show


---
Michael Edgerton
---
Michael Edgerton has his own home page. Here it is: http://www.geocities.com/edgertonmichael/
Michael Edgerton has received awards and recognition both in the U.S. and abroad. His works are published by C.P. Press Publications, T.U.B.A. Press and C. Allen Publication. Commissioned projects include electroacoustic, acoustic and music theater works. He received the Doctor of Musical Arts from the University of Illinois at Urbana-Champaign. He has taught composition at Yonsei University and was a Visiting Scholar at Hanyang University in Seoul, South Korea, and is currently a Postdoctoral Fellow with the National Center for Voice and Speech. Dr. Edgerton is currently conducting physiological and acoustical research on extended vocal techniques for a book on the contemporary voice. Additionally, he has an Extended Vocal Techniques Performance Group at The University of Wisconsin, and has been conducting workshops and seminars on extended vocal techniques for both composers and singers.
Dr. Edgerton is available for workshops on extended vocal techniques and other aspects on contemporary music composition.
---
To reach the composer:
On-line: http://www.geocities.com/edgertonmichael/
By telephone: +1-608-263-5906
By email: edgertonmichael@yahoo.com By fax:
By physical mail: Waisman Center #469, The University of Wisconsin, 1500 Highland Ave, Madison, Wisconsin 53705
---