To all visitors: Kalvos & Damian is now a historical site reflecting nonpop
from 1995-2005. No updates have been made since a special program in 2015.


Chronicle of the NonPop Revolution
---
Composer Profiles
---
Karlheinz Essl
has his own home page
---

for RealAudio 3 stereo version of met him pike trousers excerpt, 6:45


for RealAudio 3 mono version of met him pike trousers excerpt


for RealAudio 2 mono version of met him pike trousers excerpt


for MP3 streaming version of fLOW excerpt (channels 1 & 2), 10:00


for MP3 streaming version of fLOW excerpt (channels 3 & 4), 10:00


to reach his page.
---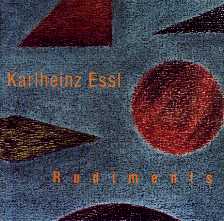 Rudiments
---

fLOW 1.1
Ambient Sound Generator
(c) 1998-99 by Karlheinz Essl

For Apple Macintosh PPC and G3 computers
Released: 22 June 1999 (freeware)

Vienna (A) - fLOW is a DSP computer program running on Apple Macintosh G3
(or fast PPC) machines. Written in MSP, it generates an ever-changing and
never repeating soundscape in real time that fills the space with flooding
sounds that resemble - metaphorically - the timbres of water, fire, earth,
and air.

Originally, this soundscape formed the basis of the site-specific
performance work-in-progress fLOW that was carried out in numerous steps
and took place in various location with changing musicians from different
fields like New Music, experimental jazz, free improvisation and New
Electronic Music.


Hardware & System Requirements

* Apple PowerPC G3 (or a PPC with at least 180 MHz) with 8 MB min. free RAM
* MacOS 7.5 or better


Downloading

fLOW, a freeware computer program for Apple Macintosh computers, can be
downloaded from:

     http://www.essl.at/works/flow.html


---

Vienna - LEXIKON-SONATE, a legendary work in the field of algorithmic
composition by the Austrian composer Karlheinz Essl, has now been released
as a stand-alone application for PowerPC and 68040 Apple Macintosh
computers.

LEXIKON-SONATE is a work-in-progress which was started in 1992. Instead of
being  a composition in which the structure is fixed by notation, it
manifests itself as a computer program that composes the piece - or, more
precisely: an excerpt of a virtually endless piano piece - in real
time. Lexikon-Sonate lacks two characteristics of a traditional piano piece:

       there is no pre-composed text to be interpreted, and
       there is no need for a pianist or an interpreter.

Instead, the instructions for playing the piano - the indication "which key
should be pressed how quickly and held down for how long" - are directly
generated by a computer program and transmitted immediately to a player
piano (or a MIDI synthesizer) which executes them.

Version 2.0 of LEXIKON-SONATE comes with a newly designed user interface
which gives you enhanced interactivity control facilities. It allows you -
so to speak - to play a complex piano piece on the keyboard of your
computer.

Web versions

For all those who want to listen to the LEXIKON-SONATE on the Internet,
there are several specially designed web version of the piece ranking from
MIDI to RealAudio. Guide your browser to:

     http://www.essl.at/works/lexson-online.html

if you wish to listen to the piece online.

System requirements

LEXIKON-SONATE runs on 68040 or PowerPC Apple Macintosh computers under Mac
OS 7.x / 8.x. It can either control an external MIDI instrument (like the
Yamaha Disklavier, a sampler, or a MIDI synthesizer with a good piano
sound), or it plays directly through the Macintosh's built-in speaker. The
later option needs Quicktime 2.5 - for improved sound quality the use of
the new Quicktime 3.0 is highly recommended.

Downloading

LEXIKON-SONATE is a free-ware computer program and can be downloaded from:

     http://www.essl.at/works/Lexikon-Sonate.html

On this page you will also find more information about this piece and its
underlying ideas.



Dr. K@rlheinz Essl
http://www.essl.at/
mailto:essl@eunet.at
---