To all visitors: Kalvos & Damian is now a historical site reflecting nonpop
from 1995-2005. No updates have been made since a special program in 2015.


Chronicle of the NonPop Revolution
---
Composer Profiles
---
Michael Frengel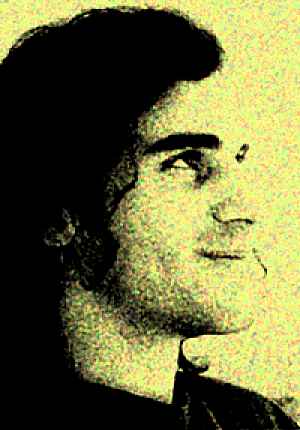 has his own home page
---
Listen to this show


---
Mike Frengel was born in Mountain View, California in 1972. After enjoying a healthy music career around the San Francisco Bay Area, Mike has since focused all of his musical efforts towards contemporary composition. Mike graduated with a B.A. degree in Electro-Acoustic Music from San Jose State University in 1995, where he studied electronic music composition with Allen Strange. He spent another two years in the Bay Area working at Apple Computers as a sound specialist as well as remaining affiliated with the C.R.E.A.M. Studios at SJSU as a Research Scientist. Mike is now completing graduate studies at the Bregman Studios at Dartmouth College, where he is working with Jon Appleton, Charles Dodge, Larry Polansky, and Christian Wolff. Mike's compositions have been performed at various music events around the world, as well as being broadcast over American, Canadian, French, and Slovak radio and the World Wide Web. He served on the selection committee for SEAMUS99 and his compositions have been included on the ICMC'95 and CDCM Vol.26 compact discs.
---
Click here

to reach his page.
---
Works
Tin Strings (1991) for four electric guitars
The Real Thing (1991) for tape
Machine (1991) for tape
Tribal Sound Reproduction (1992) for tape
The Coffee Kings (1992) for tape
Waterworks (1993) for tape
Music At Different Speeds (1994) for two marimbas and two glockenspeil
Wiring Sequence (1994-95) for three Bb clarinets, two oboes, and "130 in One"
Three Short Stories (1995-96) for tape
Rock Music (1996) for tape
Magnetisms (1997) for guitar and quadraphonic tape
Variations On An Already Complex Theme No.1 (1997) for tape
Slow Movement (1997) for piano and electronics
A Big Entrance for Big T (1998) for feedback guitar, trombone, trumpet, and oboe
Campfire Music (1998) a collection of improvisatory pieces
For Anne (1998) for tape
Growth/Separation (1998) for tape
Piano Miniatures (1998) a collection of piano etudes
Tempi Studies (1998)
Four Strings (1998) for 4 one-string guitars
Woods, Metals, Skins (1998) for percussion trio
Jump Start My Heart (1998) for piano (1 or 2 players)
Twinkle Twinkle Rockstar (1998) for 2 electric guitars
Performances
SJSU Student Composer's Concert (1992)
SJSU Student Composer's Concert (1994)
ArtNet M-BONE Broadcast (1995)
SEAMUS@Ithaca'95
Senior Recital at SJSU (1996)
DigIt ATM Broadcast (1996)
Argentina Concert (1996)
Apartment Music On exhibit throughout the summer of 1996. Nice, France
ICMC96 Hong Kong On The Edge
FEM96 (Festival of Electro-Acoustic Music) Slovak Republic
International Conference on Computer Music and Music Science (1996) Shanghai, P.R. China
SEAMUS97@Kansas City
The Sixth Annual Florida Electro-Acoustic Music Festival - (1997)
The Bonk Music Festival - (1997) Florida
ICMC97 Greece
JukeBox - (1998) France
ICMC98 Ann Arbor, Michigan
Way Out Concert of Contemporary Music - (1998) Dartmouth College
JukeBox2.0 - (1998) France
Publications
ICMC96 Hong Kong CD On The Edge - No Pestering for tape
IAMFREE Internet Art Museum (1995-present)
CDCM Volume 26 - Three Short Stories for tape
1999 Peformances
The Bonk Music Festival - (1999) Florida
The New Music Festival - (1999) Dartmouth College
SEAMUS'99 - San Jose State University
---
To reach the composer:
mfrengel@dartmouth.edu
---