---
Composer Profiles
---
Ellen Fullman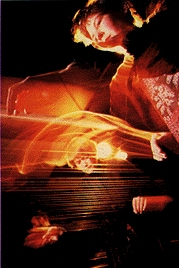 Ellen Fullman
---
Listen to this show


---
Ellen Fullman

for RealAudio comments by the composer, 1:13.


for RealAudio 5 stereo version of Harmonic Cross Sweep, 5:04. RealAudio mono version

---
Ellen Fullman ... for the composer's homepage:
Ellen Fullman was born in Memphis Tennessee in 1957. Her career in music was launched at the age of one, when Elvis Presley kissed her hand. At thirteen, Ellen impersonated Janis Joplin for her grade school talent show.
In 1980, she performed "Streetwalker," wearing her "Metal Skirt Sound Sculpture" in New Music America Minneapolis. Soon after that, Ellen accidentally discovered the sound of longitudinally vibrating long strings. Since this time she has been in the process of developing a project which she calls "The Long String Instrument." In 1985 an LP of this same title was produced by Het Apollohuis on Apollo Records in the Netherlands.
Fullman holds a BFA in Sculpture from the Kansas City Art Institute. She was a 1986 recipient of a New York Foundation for the Arts Fellowship and in 1989 and 1990 was awarded an NEA Visual Artists Fellowship in New Genres and an Interarts Artist's Project Grant. A New Forms Regional Initiative project grant was awarded for the '91 -'92 season for a collaboration with extended vocalist Tina Marsh. She has presented her work in art spaces and museums in the U S. and in Europe including: The Kitchen, The Clocktower and P S. 122, NYC; The Walker Art Center Minneapolis; The Center for Contemporary Music at Mills College Oakland; L.A.C.E. Los Angeles, Wesleyan University Middletown CT; Kunstlerhaus Bethenien Berlin; ISCM Festival Munich; Kunstverein Stuttgart and the Stedelijk Museum Amsterdam. From 1986-1989, a Meet the Composer "Composer/ Choreographer Project" Commission was awarded for a collaboration in Austin Texas with choreographer Deborah Hay on "The Man Who Grew Common In Wisdom," a work in three parts. Fullman appears on the 1992 Poi Dog Pondering release "Volo Volo" on Columbia Records.
She is currently teaching composition classes as well as leading sound meditations at her studio "The Candy Factory." She has created a stimulating and visually stunning environment for the "Long String Instrument," where collaborations with musicians and composers of various disciplines take place. A Meet the Composer Commission has been awarded to Fullman for future collaborations with the "Deep Listening Band."
---
---
To reach the composer:
On-line: ellenfullman@yahoo.com
By telephone/fax:
By physical mail:
---