---
Composer Profiles
---
David Gibson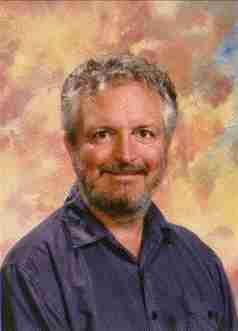 David Gibson
Listen to this show


---
David Gibson

for RealAudio3 comments by David Gibson about arts in education, 2:25 / 283K. (RA2/14.4 version)


for RealAudio version of Easter Piece I, conclusion, 1:26 / 86K.


for TrueSpeech version of Easter Piece I, conclusion, 89K.


for MPEG-2 version of Easter Piece, 333K.

---
David Gibson studied composition from Dorrance Stalvey in the early 1970's in Los Angeles. Dorrance, who was a student of and copyist for Igor Stravinski at U.C.L.A., was the program director of the Monday Evening Concert Series at the Bing Theater of the Los Angeles County Art Museum - LA's contemporary music series. Gibson's first works were played on the student portion of that series.
David has scored children's theater and films, and has explored a variety of styles and compositional approaches. His first film scores were all electronic, culminating in two films which won Oscar recognition, first place at the American and Atlanta Film Festivals, and first prize at the Trieste, Italy, Film Festival awards, in 1976 and 1977. He has explored abstract symbolic scoring, jazz, serial, atonal, modal, and mathematical approaches to composition, and has recently returned to tonal and modal harmonies.
Since moving to Vermont in 1979, David has spent most of his time in educational leadership positions, playing jazz, and accompanying his wife Mary (a violinist with the Vermont Symphony) in her teaching and casual performances. He recently returned to composition with Easter Cantata, a four movement work for chorus and orchestra which received its world premiere at the Stowe Community Church in the Spring of 1996, conducted by Cy Bryant. Another recent work is A Mighty Fortress, an arrangement of Martin Luther's hymn set for chorus, organ, French horn and trumpet which received its world premiere in the Fall of 1996.
He is currently working on a doctorate from the University of Vermont, researching the area of complex systems; especially focusing on the potential usefulness of the mathematical foundations of complexity, fuzzy logic, and related areas for social research.
Updated Bio
Dr. David Gibson is the Director of Research at the Vermont Institutes, concentrating on partnership development and new programs, systems analysis, policy development, evaluation, higher education reform and statewide professional development planning. With the Evaluation Center, David manages the evaluation of Community Connections.
David is also a leader in other state, national and international education innovation initiatives, including the National Institute for Community Innovations. His research and publications include work on complex systems analysis and modeling of education and the use of technology to personalize education for the success of all students. His recent publications include:
Personalization and Secondary School Renewal. With Friedrichs, A. (2002). In "Personal Learning: Preparing High School Students to Create Their Future." Scarecrow Press.
The Path to Teacher Leadership. With Sherry, L. (2002) Available: http://www.vermontinstitutes.org/pubs/teacherleadership.pdf; published in the online CITE journal. Available: http://www.citejournal.org/vol2/iss2/general/article2.cfm
Dynamics of Change in High School Teaching: A study of innovation in five Vermont professional development schools. LAB at Brown University (2001)
The Path to Teacher Leadership. with Sherry, L. (2000) Available: http://www.vismt.org
Complexity Theory as a Leadership Framework. Montpelier, VT: VISMT.(2000) Available: http://www.vermontinstitutes.org/pub/ComplexityandLeadership.pdf
The Impact of National Standards and Statewide Assessments on Curriculum: A Proposed Mechanism for Subsystem Dynamics within the National Science Foundation "Driver 1." (2000) Montpelier, VT: VISMT. Available: http://www.vismt.org/pub/ImpactofNationalStandards.pdf
Growing Towards Systemic Change, with Clarke, J. (1999) Regional Laboratory at Brown University
Mapping the Dynamics of Change: A complexity theory analysis of innovation in five Vermont high schools. (1999) Unpublished dissertation, University of Vermont
Educational Standards in Vermont, in "Working Papers" published by the Vermont Institute for Science, Mathematics, and Technology (1996)
David Gibson
VISMT Professional Development Specialist 802-244-8768
Montpelier Schools Director of Curriculum 802-223-6366
WEB Project Director 802-229-4660
Telephone 802-253-9588.
Email dgibson@vermontinstitutes.org
---