---
Composer Profiles
---
Gregory Hall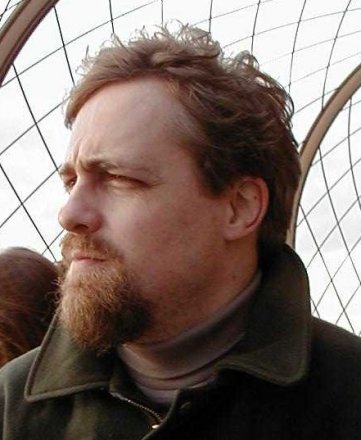 Greg Hall
Listen to this show


---
Gregory Hall
Click here

for RealAudio G2 mono version of comments by the composer, 3:15. RA 14.4 version

Essays:
Read Notes On Music For A 21st Century Baroque, an essay by the composer (in preparation).
---
Gregory Hall (b. 1959). I became a composer at the age of fifteen, after about five years of musical training as a pianist. After swimming around in something like romanticism, I became interested in neoclassicism during my stay at UC Santa Barbara, where I received my B.A. in music. Two years later, it was neoclassicism and atonality at the Curtis Institute in Philadelphia, where I studied with Ned Rorem. After moving up to Bangor, ME, I seem to be gravitating towards compositions which incorporate elements of all these "styles," seen through an increasingly minimalist lens. Another significant "stylistic trait" seems to be an obsession with the interval of the third. I am presently Vice-Presiden of the Maine Composer's Forum (an outgrowth of the Vermont Composer's Consortium), and have had a major hand in organizing concerts since the Forum's inception in 1990. I have recieved commissions from the MTNA, etc., and have had works played at numerous festivals (American Composer's Alliance, SCI, SEAMUS, Bowdoin College Gamper Festival). My MAX algorithm 21st Century Baroque has appeared on the MAX list CD, an internationally distributed CD-ROM.
Mr. Hall's catalog contains orchestral works, chamber music, and art songs. Some of the music of Gregory Hall is available in mp3 format at http://www.mp3.com/greghall. Published music is available from the composer at the address below:
Recent works include Polytriad, a 10-minute work for large symphony orchestra containing some extremely tall chords; Water: Two poems of W.S. Merwin, a work for chamber ensemble and high voice following the tenets of "21st Century Baroque" music, the first movement of which was performed at a 1996 Maine Composer's Forum concert, and For Graham Fitkin, a large-scale, sonorous piano work. During the last two years I have inadvertently stumbled into the worId of electro-acoustic music thanks to the MAX programming language: new sections from my algorithm 21st Century Baroque now appear regularly on http://www.mp3.com/greghall.
Current works-in-progress include "Cthulhoid" (working title), a piece for percussion ensemble, and "Hardanger", a work for solo violin strongly emphasizing the resonance of the open strings
Several works (Polytriad (originally entitled "Polypiano"), Cthulhoid, Polyphase) employ the interval of the stacked third to a great degree.
---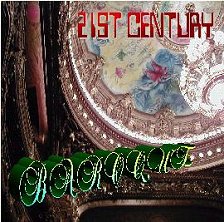 CD Cover, "21st Century Baroque"
---
To reach the composer:
Telephone: 207-843-7972
By physical mail: P.O. Box 64, Eddington, ME 04428
By email ghall@autometric.com
---