---
Composer Profiles
---
Sean Hickey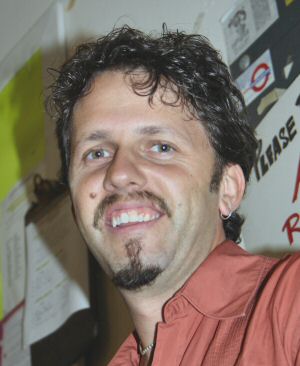 Sean Hickey
---
Listen to this show


---
Sean Hickey

to reach his home page.
---
Born in Detroit, Michigan in 1970, Sean Hickey's earliest music education began at age 12 with an electric guitar, a Peavey amp, and a stack of Van Halen records, the early ones of course. He studied jazz guitar at Oakland University, later graduating with a degree in composition and theory from Wayne State University. His primary instructors were James Hartway and James Lentini.
Since moving to New York, Sean has pursued further studies with Justin Dello Joio and Gloria Coates. His works include two string trios, a string quartet, a flute sonata, a woodwind quintet and trio, several pieces for solo instruments, church as well as orchestral music. He has also worked on a film score, and composed the music for a children's play, the latter of which received over 80 performances. Sean is also active as an arranger, contributing arrangements for various artists and ensembles in the pop and jazz music spheres, most recently scoring The Winemaker for performances in Philadelphia. 2003 has been a busy year thus far with performances of his piano music at New York's Weill Hall in addition to the first concert dedicated entirely to his chamber and solo music, at CAMI Hall. He is presently fulfilling commissions for New York's One World Symphony, the Adesso Choral Society in Connecticut, and the Spain-based piano/accordion duo An-Tifon.
His principal instruments are guitar and piano. Sean has composed upon commission Runes and Alphabets for Philadelphia-based ensemble Ars Futura and is a recipient of a 2003 ASCAP award and was named a semi-finalist in the Auros 2001-2002 Composition Competition, also winning second prize in the 1990 State Awards (composition) in the former Yugoslavia. The past year has seen performances in New York, Washington DC, Portugal, Ireland and Turkey. He is an ASCAP member.
Currently, Sean works as a territory manager for Naxos of America, Inc., the world's premiere classical music label, while pursuing freelance writing in music and travel, as well as composition. Several of his recording and concert reviews may be found in the pages of the New Music Connoisseur, 21st Century Music, Modern Dance and numerous other publications. He is also a principal contributor to the forthcoming MusicHound Guide to Classical Music. He has also contributed liner notes to dozens of classical recordings.
His travel and adventure pieces have appeared in Transitions Abroad, the Burlington Free Press, Trailworks, Trailsource, Orlando Weekly, ITN, Babylon Travel and elsewhere. Otra Dia, a travelogue of the writer's travels in Peru, was published in 1998 by Cantabile Press.
---
---
To reach the composer:
On-line: revueltas@sprynet.com
By telephone/fax:
By physical mail:
26 Butler Place #37
Brooklyn, NY 11238 USA
---