---
Composer Profiles
---
Evan Johnson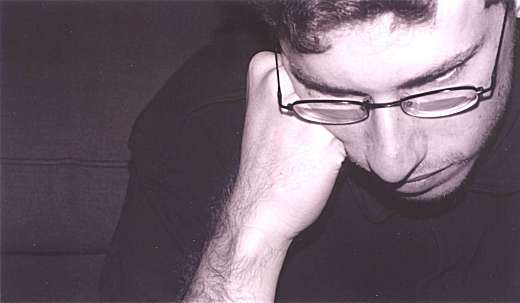 Evan Johnson
Photo by Eugenie Brinkema
---
Listen to this show


---
Evan Johnson

RealAudio comments by the composer


RealAudio stereo version of Femme Debout, part I, 8:06. RealAudio mono version


RealAudio stereo version of Femme Debout, part II, 7:40. RealAudio mono version


RealAudio stereo version of Femme Debout, part III, 8:40. RealAudio mono version


RealAudio stereo version of Shards, 7:46. RealAudio mono version


PDF version of the score to Femme Debout. Also in a zipped Finale ETF version


Full-size publicity photo of the composer, #1 (right-click and save as... to download). Credit to Eugenie Brinkema


Full-size publicity photo of the composer, #2 (right-click and save as... to download). Credit to Eugenie Brinkema


Full-size publicity photo of the composer, #3 (right-click and save as... to download). Credit to Eugenie Brinkema

---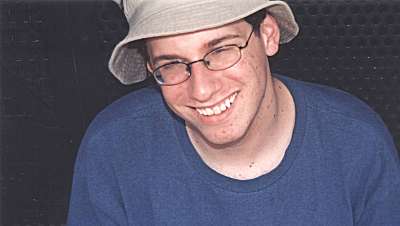 Evan Johnson
Photo by Eugenie Brinkema
Evan Johnson (b. 1980) is a Presidential Fellow in composition at the State University of New York at Buffalo, where he studies with David Felder; other teachers include Johannes Schöllhorn, Chaya Czernowin, Richard Barrett and Brian Ferneyhough. A summa cum laude graduate from Yale University in 2002, Johnson attended the 2003 Sommerakademie Schloss Solitude International Masterclass for Composers as well as the "Voix Nouvelles" composition courses of the Fondation Royaumont, at which Johnson was chosen as one of three composers to have a work of music theatre fully produced and directed at Royaumont in October 2003. That work, se relire contre le piano-jouet, co-created with director Richard Brunel, was repeated in April 2004 at the Opéra de Lille as part of that city's 2004 European Capital of Culture festival. Most recently, he was invited to attend the August 2004 composition courses at the Domaine Forget in Quebec, where his work Reaktionmaschine: II was performed by the Nouvel Ensemble Moderne under the direction of Lorraine Vaillancourt.
Johnson has received awards from, among others, the Society for New Music (2003 Brian M. Israel Prize), the New York Art Ensemble (Young Composers' Competition 2001), Broadcast Music, Inc. (a 2000 BMI Student Composer Award and Carlos Surinach Prize), the Washington Conservatory of Music (the 1997 Sotireos Vlahopoulos Young Composer's Prize), and Yale University (the Joseph Lentilhon Selden Memorial Award, in connection with which his music was described as "intellectually, technically, and emotionally rich and assured," the Abraham Beekman Cox Prize, and the Friends of Music Prize for his orchestral work Horizontals White over Dark).
Performers of his music include the Ensemble SurPlus; Schallspiel; the Society for New Music; pianists Ian Pace, Isabel Ettenauer, Jacob Greenberg and Geoffrey Burleson; clarinetist Gareth Davis; the Quatuor Bozzini; the Yale Bach Society Orchestra (conducted by Michael Lewanski); and soloists from the National Symphony Orchestra, among others. Also active as a pianist, electric bassist and conductor, Johnson is one of the founding members of Augenmusik, a Buffalo-based ensemble specializing in the performance of graphic or otherwise open scores. His translation of Helmut Lachenmann's article "On my Second String Quartet" appeared in a recent issue of Contemporary Music Review.
---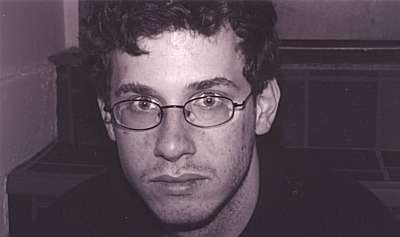 Evan Johnson
Photo by Eugenie Brinkema
Compositions
Four Choral Pieces (SATB chorus, in progress)
Horizontals White over Dark (small orchestra, in progress) - 15'
Morendo (violin and piano, 2001) - 10'
Agnus Dei (SATB chorus of at least 24, 2001) - 4'
Femme Debout (two cellos, 2001) - 24'
Scesis Onomaton (piano and string orchestra, 2000) - 13'
Shards (piano, 2000) - 7'
Number 52 (two sopranos and piano or soprano, piano and tape, 2000) - 5'
Alchemical (SATB chorus, 1999-2000) - 4'
Rose Window: Textural Variations (two pianos, 1999) - 11'
Litanietta (violin, 1999) - 4'
Suite-Tombeau (guitar, 1999) - 8'
Williams (soprano and piano, 1998) - 5'
String Quartet "Pulvis et Umbra" (soprano and string quartet, 1997) - 30'
Via Crucis (piano trio, 1996) - 11'
---
To reach the composer:
On-line: eaj2@buffalo.edu
By telephone:
By fax:
By physical mail:
---