---
Composer Profiles
---
Gerard Pape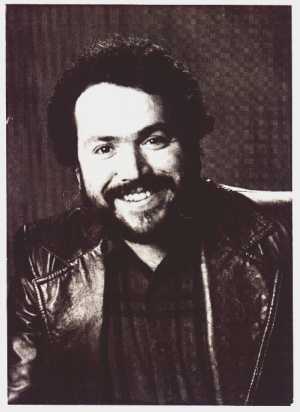 Gerard Pape
---
Click here

for a description of Gerard Pape's music in English.
Cliquez ici

pour un précis de l'oeuvre de Gerard Pape en français.
---
Gerard Pape has composed more than 40 works: orchestra, chamber music, vocal music, electronic works for voices, instruments and/or tape.
His music has been played in numerous festivals in the USA, Canada, France, Italy, Germany, Spain, Austria, Greece, Romania, Sweden, Australia, Mexico, Hong Kong and Japan. His music was presented in the International Computer Music Conference (ICMC) in Tokyo in 1993 and in Hong Kong in 1996. He has been granted ASCAP standard awards each year from 1992 through 1997.
Among his most recent compositions is the work Feu Toujours Vivant for large orchestra and 4 sampler keyboards, commissioned by the electronic ensemble Art Zoyd and the National Orchestra of Lille, conducted by Jean-Claude Casadesus. Its world premiere took place in Lille, March 9, 1997.
His discography consists of a previous monographic disk released in 1992 by Mode, including works played the Arditti Quartet, the Prism Orchestra of New York, and William Albright. The Computer Music Journal released an anthology disk in 1997 that contained an excerpt of Pape's Le Fleuve du Désir in its version for string quartet and tape, as played by the Arditti Quartet.
Currently, Pape is working on an opera based on Clive Barker's novel Weaveworld. This project involves a very close collaboration with Yann Kersal&eacaute;, French visual artist, known worldwide for his visionary use of dynamic light projections.
Gerard Pape directs Les Ateliers UPIC in Paris, a center for musical creation supported by the French Ministry of Culture, since 1991.
---
Gérard Pape a composé plus de quarante oeuvres pour différentes formations: orchestre, musique de chambre, musique vocale et oeuvres électroacoustiques pour voix, instruments et/ou bande.
Sa musique a été jouée dans de nombreux festivals internationaux aux USA, au Canada, en France, Italie, Allemagne, Espagne, Autriche, Grèce, Roumanie, Suède, Australie, Mexique, Hong-Kong, et au Japon. Sa musique a été présentée lors de l'ICMC 1993 (International Computer Music Conférence) à Tokyo et lors de l'ICMC 1996 à Hong-Kong . Il a reçu un prix ASCAP aux Etats-Unis en 1992, 1993, 1994, 1995, 1996 et 1997.
Dans ses oeuvres récentes, on peut noté Feu toujours vivant pour grand orchestre et 4 échantilloneurs, commande de l'ensemble Art Zoyd et de l'Orchestre National de Lille, crée par l'Orchestre National de Lille et Jean-Claude Casadesus avec Art Zoyd à Lille le 9 mars 1997 et repris ensuite à Maubeuge et Créteil.
Sa discographie comporte un disque compact consacré à sa musique avec des oeuvres interprétées par le Quatuor Arditti, le Prisme Orchestre de New York et William Albright produit et distribué par le label Mode Records (1992). Le Computer Music Journal a édité un disque-compact en 1997 comportant un extrait de son oeuvre Le Fleuve du Désir interprété par le quatuor Arditti.
Gérard Pape travaille à la réalisation et à l'écriture d'un opéra vidéographique inspiré d'un roman fantastique de Clive Barker Weaveworld. Ce projet sera le fruit d'une étroite collaboration avec Yann Kersalé, artiste plasticien et metteur en lumières.
Il dirige les Ateliers UPIC, centre de création musicale subventionné par le Ministère français de la Culture depuis 1991.
--traduction: Célia Cukier
---
Gerard Pape recommends: James McHard's "The Future of Modern Music", from American Book Publishing Group (ABPG), where he talks about Xenakis, Estrada and myself, as well as my studio Les Ateliers UPIC, recently renamed CCMIX (Center for the Composition of Music Iannis Xenakis). You can find the book here: http://www.futureofmodernmusic.com/
---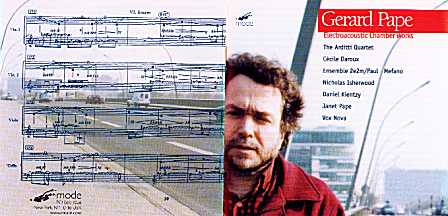 Electroacoustic Chamber Works
on
Mode
---
To reach the composer:
On-line:
100422.1771@compuserve.com
By telephone:
By fax:
By physical mail: 62, rue Michel-Aye, 75016 Paris, France
---