To all visitors: Kalvos & Damian is now a historical site reflecting nonpop
from 1995-2005. No updates have been made since a special program in 2015.


Chronicle of the NonPop Revolution
---
Composer Profiles
---
Jean Piché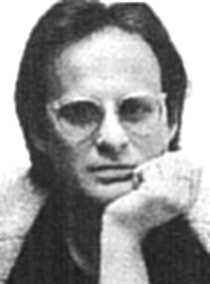 Jean Piché
---
Listen to this show


---
Jean Piché
---
Jean Piché is a native of Trois-Rivières, Québec. After university studies in Québec, Vancouver, California and at the Institute of Sonology in the Netherlands, he began a career specializing in electroacoustic music and computers. Supported by various grants, he has worked in a number of experimental music studios in Europe and the United States.
His musical production has frequently been praised by critics for its dramatic impact, the often spectacular orchestration and the composer's very personal sense of humour. He has received special commissions from New Music Concerts (Toronto), the Elmer Iseler Singers, the Vancouver New Music Society, the Canadian Pavilion at Expo '86 in Vancouver, and from many soloists. His music has been played and broadcast in several countries and has won numerous international prizes, including honourable mention from the International Rostrum of Composers for Ange (1980), a work for voice and computer. His film score for Taming of Demons received an award for the best Canadian film at Expo '86. His work, Steal the Thunder (1984), for percussion and computer, appeared on the Centrediscs recording, Impact, nominated for a Juno award in 1986. Heliograms, a collection of four musical works by computers, is also available on the Melbourne label.
After working for more than three years with The Canada Council, Piché joined the Faculty of Music of the University of Montréal where he teaches electroacoustic composition.
---
---
To reach the composer:
On-line: Jean.Piche@UMontreal.CA
By telephone/fax:
By physical mail:
---