---
A Genius in the Family
Profile of the Bertoias
---
---
Harry Bertoia's death, 19 years ago this November, left the world with a galaxy of drawings, commercial designs, Sonambient recordings and mostly importantly, welded metal sculptures that harmonize with and emulate natural forms so as to redefine monumental sculpture and reopen the senses with which one appreciates sculpture.
Bertoia was trained as a designer as well as a sculptor, and his vinyl-coated steel chairs (which were manufactured by Knoll Group in East Greenville, Pennsylvania, Italy and France) became some of the most influential modernist furniture designs. Wedding the curves of the human body with curved metal, the chairs, whose open lattice often achieved an op-art effect, have appeared in exhibitions with designs by Alexander Calder and Frank Lloyd Wright.
Ironically, the death of Harry (renamed by his father from the Italian "Arieto" when the family came to the United States) also opened the door for the artistic expression of his wife and children. So as to avoid the soul-sickness which can come from living with a genius, Brigitta, Harry's widow; Val, his son and Celia and Lesta, his daughters have followed separate paths. His two granddaughters were born after his death, but even they feel influenced by his legacy. Lesta's other child, Eric, does computer graphics.
Of the living Bertoias, Val, is the most prominent artist. Continuing to work, almost seamlessly, with the media and themes that compelled his father, Val continues to create symbolic forms inspired by wind, sun, water and the forms of the earth. As boy, Val had a vision (which emphasized his hands) of being a guiding spirit for little woodland people, which he whimsically called "treeple." As a young man, he attended Indiana Tech., but rejected his mother's suggestion that he become a mechanical engineer, deciding instead to come back to Bally, Pennsylvania to assist his father. He says, in retrospect, that at his father's side was "exactly where [he] belonged." Today he creates metal sculptures at his studio in Bally. The template for his work that connects his art and other projects is what he calls the "directed growing spiral within an eco-cube." Another of Val's major projects is a massive tree sculpture of Harry's which he is adapting for a celebration to be held on the twentieth anniversary of his father's death.
Val also maintains the Sonambient Barn, a gallery of gongs, suspended tubes and clusters of vertical metal rods, which sway and knock against one another can be strummed as musical instruments in addition to being sculptures. Harry made numerous recordings of ambient sounds with his sculptures and he has been compared to Robert Fripp and Brian Eno. In its debut issue, Halana magazine said of his music, "The sounds are fresh, natural, and complicated. They sometimes seem unearthly, but not cacophonous … the vital balance of the sacred and secular like rich soil. Moods range from focused and invigorated to loose and searching. All of them are warm, human and confident. Over and over, what resonates is a sweet calm which flows from one sound to the next." Master recordings made at the barn still exist and Val hopes to produce more saleable CDs as well as a theatrical performance using the instruments of the Sonambient Barn.
Like his son, Harry's images for his art and artistry came from nature and his own body. Walking or driving through the country he would often stop, mesmerized by the grace of an individual tree; trees were a powerful motif in his monoprints and sculptures. Annie Prince, agent for the arts, currently represents the Bertoia estate of art works, but her relationship with the Bertoias began when they accepted her as almost a member of the family. She lived with them from January to June 1976, getting up early in the morning and sharing recollection of dreams with Harry. She recalls Harry's telling her a dream in which monkeys in a jungle showed him their hands, conveying to him that his hands were not very different from theirs.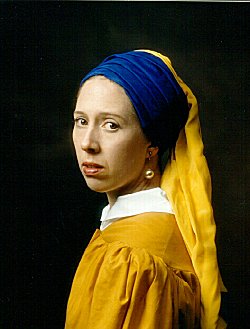 Adrienne Redd in the Style of Vermeer
Another of Val's major projects is the Eco-sculpture pathway, of which there is one at the family estate in Bally. A woodland walk punctuated with portals, gongs and other sculptures that represent the energies of the points of the compass, the sculpture pathways can be set up in any park. Val says, "My Eco-Sculpture Pathway covers the planet Earth. Every time I sell a sculpture, anywhere in the world, it is the beginning of E.S.Pathway. For example, Scott Devon near Grand Rapids, Michigan (via Peter Bartlow of Bartlow Gallery) commissioned and bought sound-sculptures from me that he placed beautifully outside in his little pool of water at the entrance of his house. They follow the E.S.P. from outside to inside the house and the house is totally of glass walls within a cube form...very consistent with the spiral pathway." He adds, "Also, the Gong-Tree at Reading Area Community College is placed on the east side to begin the walk around and into the building. From Bartlow Gallery in Chicago, an executive from Playboy bought one of my sound-sculptures, this is a beginning of a new concept, introducing sound and movement to that of humans. I need not install E.S.Pathways throughout the world because nature already has done it for eons of time. Every growing pattern we know of follows this concept." Interestingly, Val also conveys an obsession with healing in his work and one feels compelled to ask: what is it that he feels needs to be healed?
For Lesta, Val's older sister, Harry's work and her own is also full of images of nature. She says that his famous chairs delighted her as a child because she could use them to make caves to climb through. She says, "My mother kept my drawing from when I was first able to hold a pen and from that time I drew Native American images of teepees and horses and people with bows and arrows." Dreamy, soft-focus spirituality is still a big part of her acrylic paintings, quilts, woodwork and other crafts.
Like Val, Lesta provided hands-on assistance in readying her father's work. Getting ready for the 1962 Expo, she built crates and cleaned, taped and did some welding for every one of literally thousands of wires of a huge metal dandelion. She admits, however, "In the case of our family, we were very much overshadowed by Harry's genius. He was so innovative and used such amazing combinations of forms and sounds and his fame was international and he was a perfectionist and so when we would show him our art work he was critical and expected more of us when he should have simply praised it." According to Lesta, not until four years ago did she take her art seriously enough to supplement her income with it. "We were retarded by the vastness of my father's genius," says Lesta, though Val went further than I did." The siblings have another sister, Celia, who lives on the west coast. Of her, Val says, "Celia is an unknown artist in many ways. She has made beautiful jewelry from unusual plants in Colorado, New Mexico and Montana. I recently brought her pottery back to her from Pa. She made me a wonderful kangaroo whistle that works when blowing air through it. She has designed and made her own clothing, she sells and buys houses with an artist's style. She cooks chilli and other dishes aesthetically. She swims like an otter, runs like a marathon winner and has won many long-distance runs. She has wonderful gardens of her own design and maintenance. She is really the self-made woman of the 2000s."
Lesta continues, "My mother didn't take her art seriously until after he died. According to Lesta, when Harry saw Brigitta's first picture blanket he said bluntly, "Finally you have come up with something original." Brigitta was born in Berlin and met Harry (who was born in northern Italy) at Cranbrook Academy in Detroit. She has made 63 picture blankets now lives in a brick Victorian rooming house (where she has a little sunroom in which to work) on a hilltop not far from where her son and daughter live.
"[Harry] was such a pillar of strength and dominated the scene," says Lesta. "It seemed impossible to consider being an artist when there was such a powerful artist in the family," but Lesta praises her daughter Fawni, age 17 and Val has high hopes that Kyndi, 19 may join him as a sculptor. Both young women were born after their grandfather died and may have inherited some of his talent without the intimidation that went with it. Lesta says of Fawni, she is taking independent art now, which means she can work on any project that interests her - batik, papier-mâché, painting or clay work. She also does macramé and jewelry and sell them Pennsylvania and in Connecticut when she is with her dad. Fawni returns the admiration, saying, "I love my mom's art work and I get a lot of idea for my own work. I like to draw and she paints pictures so I get ideas."
Posthumously, Harry helped his granddaughter, Kyndi gain admission to the Purnell School for girls in Pottersville, New Jersey, where she is now a senior. Headmaster, Moran came to Purnell from Cranbrook, where Harry had left such a mark. Though he worked there for 13 years, Moran had never met Harry, but he owned two of his chairs. When Val, Kylene (Kyndi's mother) and Kyndi interviewed at Purnell, Moran was delighted with the connection to the Cranbrook Institute. Over Kyndi's years at Purnell, Val has also done workshops for the students and donated a piece for a fundraising auction.
Harry Bertoia's outdoor sculptures may be found in public spaces around the world from the fountain at the National Bank of Boyertown to the altar sculpture at MIT in Cambridge, Mass. so his work maintains a physical presence as well. Fawni says of her grandfather's sculptures, "I love his work and seeing it different places. One is at the Allentown Airport - I love being able to recognize it in different places. There was one piece that I always loved - made out of wire looks like a willow tree or a water fountain. When I was little I used to hide underneath it."
Discography and References
Harry Bertoia's recordings from Sounding Sculptures 1965-1972: The Sounds of Sound Sculpture were listed by Kalvos & Damian's New Music Bazaar and there have also been imports of Sonambient music, such as Unfolding on Modern Music PSFD-32 (from Japan).
Harry Bertoia: Sounding Sculptures 1965-1972. From "The Sounds of Sound Sculpture". A.R.C. Records LP ST1001
Available from the Eclipse Records Catalog (2172 Sierra Santiago, Bullhead City, AZ 86442 520-763-7604) are:
Harry Bertoia All And More/Passage LP $8.99 (Sonambient)
Harry Bertoia Continuum/Near And Far LP $8.99 (Sonambient)
Harry Bertoia Energizing/Mellow Tops LP $8.99 (Sonambient) "Sounds are sustained while each goes through amazing internal shiftings"
Harry Bertoia Gong-Gong/Elemental LP $8.99 (Sonambient) "Disturbing intense speedy drone"
Harry Bertoia Here And Now/Unknown LP $8.99 (Sonambient)
Harry Bertoia Ocean Mysteries/Softly Played LP $8.99 (Sonambient)
Harry Bertoia Original Sonambient LP $8.99 (Sonambient)
Harry Bertoia Swift Sounds/Phosphorescence LP $8.99 (Sonambient)
Harry Bertoia Space Voyage/Echoes Of Other Times LP $8.99 (Sonambient)
Harry Bertoia Swinging Bars/Vulcan's Play LP $8.99 (Sonambient)
Harry Bertoia Unfolding/Sounds Beyond LP $8.99 (Sonambient)
Outlets include Anomalous Records in Washington, BookBeat in Michigan, PJ-Sounds in Emmaus, Pa., R&R Records in Mass, Klabal Gallery in Florida and Gallery-9 in N.C.
Adrienne Redd
Freelance writer; author of A Terrible Beauty; host/producer Art Beat. Profiles of Art Beat guests and other writings can be found at http://www.netaxs.com/~adredd/. To contact the author: adredd@journalist.com, or telephone 215-362-0504.
---