---
Composer Profiles
---
Arthur Sauer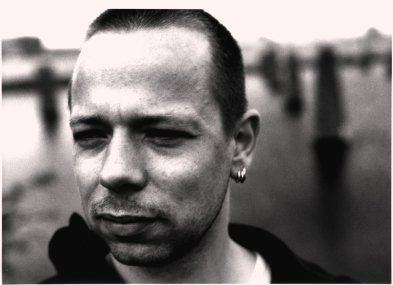 Arthur Sauer
Listen to this show


---
Arthur Sauer
Click here

for RealAudio comments by the composer, [not yet available].
Click here

for RealAudio 3 stereo version of
Donderharp Demo
3:25.
Click here

for RealAudio 3 mono version of
Donderharp Demo
Click here

for RealAudio 2 mono version of
Donderharp Demo
Click here

for RealAudio 3 stereo version of
Buster
, 10:11.
Click here

for RealAudio 3 mono version of
Buster
.
Click here

for RealAudio 2 mono version of
Buster
.
---
Arthur Sauer
[Biography not yet available]
---
Commentaries and text of compositions.

Burn Out
Burn Out is written for a "programmable" musical box: paperboard and a hole puncher. A Burn Out is the warming up of the tyres in drag racing just before the start. Like drag racing this piece is also about speed. Music for these "programmable" musical boxes somehow always seem to be slow. This may have to do with the sound, but also there is a minimum distance for holes of the same pitch. This piece tries to reach maximum speed by using maximum density and by turning the handle as fast as possible. Thereby a waterfall is created. The Burn Out happens in the end when the cardboard is pulled out of the musical box.

The World as Seen From the Moon Part 2
The World as Seen From the Moon Part 2 was written for the Consequenze Festival. This was a Festival around Luciano Berio. In this festival all his Sequenzas were performed (and a new one for accordeon was commissioned). The Sequenzas are all pieces for solo instruments and are about virtuosity. For each of the instruments a composer was asked to write a new piece. I was asked to write a piece for piano which is his Sequenza IV. Sequenza IV uses one chord in various positions. It is something I can not hear in the piece apart from the fact that I think it is his worst Sequenza, so I decided not to relate my piece to his Sequenza. Before this piece I wrote a piece for clarinet quartet. I had decided that I wanted to make a series of pieces under the same title. So the piano piece happened to be Part 2. The clarinet quartet is a very complex piece. I now wanted to make a piece with a very minimal use of material. I decided to use a repeating base and one chord on top and see how far you can go, and I decided to have the bass in triplets and the right hand in sixteenths. When the piece was finished I realised it ended up to be also a comment on Berio's Sequenza. The one chord I use is transposed but always stays in the same position, and it is also about virtuosity: not in the sense that it is "manually" difficult to perform but in the sense that repeating the same bass and having the hand in one position to play the chord costs a lot of power. To be able to play it a thorough command of your use of energy is needed.

Pak Me Dan
The title Pak Me Dan is a song children sing when they play. They sing "catch me if you can" in a provoking manner and when someone comes after them, they run away. The piece is written for the 150th jubilee of the Foundation for Musical Training Rotterdam, for children string orchestra and children's choir. Because of the bad organisation the children did not have enough time to rehearse the piece so for the recording a soprano was asked. The text is written by Harriët van Reek for this piece. The story is about young princesses who, while playing, discover a slimy beast on top of the hill. They provoke the monster to come after them.There is a sense of innocence and awakening erotic feelings disguised in the form of a fairy tale. The slimy beast comes after the princesses and in the end falls into a river and drowns.
Performed by:
Rotterdam Youth Symphony Orchestra and the SKVR Children's Choirs
Director: Martin Sonneveld
Soprano: Marga van Hintum
Practicing of the Children's Choirs: Ottilie de Laat-van de Jagt

Halloween / Terreur
These two pieces were written for the musical theatre play Elektra Orestes. The tekst is written by Erik Ward Geerlings after Euripides. These pieces were performed near the end of Orestes. Orestes and Elektra's mother has killed their father and married a new man. Orestes has revenged his father: he killed his mother and her new husband and has gone completely insane. The title Halloween refers to the movie with the same title of John Carpenter. "Terreur" means terror.
Terror. Cursed ghost who let this house of kings bleed. Bleed it will, without ending. Nothing can stop us.
Voices: Hilt de Vos and Arthur Sauer
Keyboard: Michiel Scheen
Guitar: Wiek Hijmans
Bassguitar: Frank van Berkel
Drums: Jim Meneses

Discharge
Discharge has three parts: Does this system work, Cries of help, Life's destruction. Part one is composed by Huba de Graaff, part two by Reinhard Bokelmann and part three by Arthur Sauer. The piece was written during our second year at the Royal Conservatory The Hague. We were supposed to have orchestration lessons with Louis Andriessen but he thought that everything we wanted to learn could also be found in a book. He only wanted to give the lessons if we came up with a good idea. I proposed to orchestrate three pieces of a punkband in such a way that an orchestra would sound like a punkband. This means you have to instrumentate distorted electric guitars, feedback, a shouting singer.
Performed by: the Rotterdam Philharmonic Orchestra
Director: Jan Latham-Koenig

Arcade-Space Mutants
Arcade-Space Mutants was written for "De Volharding".
The game starts. You fly with your rocket through space. Some boulders whiz past your ears but now they are still easy to avoid. Yahoo. That was level 1. You're already used to the steering and the shooting. What's next? The boulders have got arms. You have to keep out of the way just a little further. Woooo. Nothing's wrong. On to level 3. Right. Through a cave, and now there are also rockets shooting out of the ground. They can be eliminated with bombs. Wahooo! Level 4. The boulders are pink now and besides arms they have also got a telescopic set of dentures. I'm now also being attacked by rockets from the front and from the back. With machine-gun fire I can shoot teeth out of the dentures. Tchak tchak tchak. That was a narrow escape. Phew! A meditation landscape. Just what I needed. Relax for a sec. Level 5. Shit, now they also have trunks with which they can spit. I do have a chainsaw attached to my rocket now. Fuck. The backgroundcolors change so I can't see them temporarily. Ow ow ow ow. Game Over. You have ten seconds to insert a coin to continue the game.

Joukahainen's Defeat
Written for the Toi Mii ensemble from Finland.
Joukahainen's defeat is an episode from the epic legend of the Finns, the "Kalevala".

Then the youthful Joukahainen
Shook his head, his mouth drawn crooked,
And he tossed his locks of blackness,
And he spake the words which follow:
"He who shuns the sword's decision,
Nor betakes him to his sword-blade,
To a swine I soon will sing him,
To a snouted swine transform him.
Heroes I have thus overpowered,
Hither will I drive and thither,
And will pitch them on the dunghill,
Grunting in the cowshed corner."
Angry  then was Vainamoinen,
Filled with wrath and indignation,
And himself commenced his singing,
And to speak his words of wisdom.
But he sang no childish ditties,
Children's songs and women's jesting,
But a song for bearded heroes,
Such as all the children sing not,
Nor a half  the boys can master,
Nor a third can lovers compass,
In the days of dark misfortune,
When our life is near it's ending.
Sang the aged Vainamoinen:
Lakes swelled up and earth was shaken,
And the coppery mountains trembled,
And the mighty rocks resounded,
And the mountains clove asunder;
On the shore the stones were shivered.
Then he sang of Joukahainen,
Changed his runners into saplings,
And to willows changed the collar,
And the reins he turned to alder,
And he sang the sledge all gilded
To the lake among the rushes,
And the whip with beads embellished,
To a reed upon the water,
And the horse with front white-spotted
To a stone beside the torrent.
Then he sang his sword, gold-hilted,
To a lightning flash in heaven,
And his ornamented crossbow
To a rainbow over the water,
and he sang his feathered arrows
Into hawks that soar above him;
And his dog, with upturned muzzle,
Stands a stone in earth embedded.
>From his head, his cap, by singing,
Next became a cloud above him,
>From his hands, his gloves, by singing
Next were changed to water-lilies,
And the blue coat he was wearing
Floats a fleecy cloud in heaven,
And the handsome belt that girt him
In the sky as stars he scattered.
As he sang, sank Joukahainen
Waist deep in the swamp beneath him,
Hip-deep in the marshy meadow,
To his armpits in a quicksand.
Then indeed young Joukahainen
Knew at last his course was finished,
And his journey now  was ended.
For in singing he was beaten
By the aged Vainamoinen.
He would raise his foot to struggle
But he could no longer lift it;
Then he tried to lift the other,
But as shod with stone he felt it.
Then the youthful Joukahainen
Felt the greatest pain and anguish,
and he fell in grievous trouble,
And he spoke the words which follow:
"O thou wisest Vainamoinen,
O thou oldest of magicians,
Speak thy words of magic backwards,
And reverse thy songs of magic.
Loose me from this place of terror,
And release me from my torment.
I will pay the highest ransom."


The World as Seen From the Moon Part 1
The World as Seen From the Moon started on the way back from Berlin to Rotterdam.
When you are far away from home for a longer time you can look at things from a distance. I had to write a clarinet quartet but did not know what to do with it. I decided that I had to write it as if I was seeing it from a longer distance. I could write the piece as if it was going to be a piece of electronic music. It should start as a four track tape piece and end as a sixteen track tape piece. Electronic effects like delay are mimicked, dynamics can be interpreted as envelopes and cut-up techniques are used to realise the effect of a sixteen track tape.

Sounds of Surprise
Sounds of Surpise was composed for a festival the Rotterdam Musicians Platform organised. Several composers were asked to write a one minute piece.

De Zusjes
De Zusjes was written for a music-theatre performance titled STUcK. A text written by Albert Blitz was read on top of it.
De Zusjes means: The Sisters. They tell each other memories of the time their father died. Each of them has different versions of what exactly happened.

Strategies
Is like De Zusjes, a piece that can also be used to layer with other texts or sounds.

Tonight we'll expose you to strategies for a new lifestyle:
This is lesson no. 1.
Follow the energy and see where it goes.

Adapt yourselves to the brainjam
and use the force of momentum.
The rock only rolls when it falls from the mountain.

Now it is time to adapt to the forces of motion:
Watch yourself and determine the new positions.
Move swift and skillfully.

Forget where you are, forget who you are
and move like a river.
Track the patterns and find the hot spots.

To assess and aim is in the heart of the art,
To assess and aim is in the heart of the art,
now set it on fire and burn holes and burn holes and burn and burn and burn
holes.

Feel where it's glowing and set it on fire.


De Zwarte Nacht
De Zwarte Nacht means: The Black Night. This piece was written for the musical theatre play Elektra Orestes. The tekst is written by Erik Ward Geerlings after Euripides.

The black night has stars in its mind,
which will turn pale in the sun.
But in my head one thought is stuck
like the axe in daddy's skull.

Voice: Hilt de Vos
Guitar: Wiek Hijmans
Keyboard: Michiel Scheen
Representative musical compositions:
Discharge (1984) (together with Huba de Graaff en Rijnhard Bokelmann). Hardcore for symphony orchestra.
Chiasso Assordante (1985). 2 horns, 2 trumpets, 2 trombones, electric guitar, bassguitar and drums.
Akalypse (1986). written for LOOS.
Do not we learn we see not (1986). written for LOOS.
Lake disappointment (1987). 3 singers and clavecymbel.
Wooi wo ngo yok (1987). 6 voices.
Clothed in firwood, riding a white sedan (1988). electric violin, accordeon, synthesizer, electric guitar, drums, male and female singer, performed by "het komponistenensemble".
Zwischen Frühlingschokoladehohlkörper und Jahresendflügelfiguren (1988). voice.
Try your pressure, blister (1988). flute, tarka, hobo, sona, 2 whirlies, electric guitar, piano en bassgitaar.
The black box (1988). composer and accordeon.
Ski-Fi (1992). brass quintet and electronic braasmutes. commission of the Amsterdams Fonds voor de Kunst.
Europapa (1992). computer and synthesizer. written for samplemind and the R.I.P.
Hard & Snel (1993). electric guitar, thunderharp, computer, tape en synthesizer.
Parallel cases from under the peartree (1993). translation R.H. van Gulik. soprano, computer and synthesizer. commission of the Amsterdams Fonds voor de Kunst.
Joukahainen's defeat (1993). written for the Toi Mii ensemble. clarinet, guitar, cello, piano, percussion and tape. commission of the Fonds voor de Scheppende Toonkunst.
Het kristal wreekt zich (1993). voice and 5 electric guitars. written for het Rotterdams gitaarkwintet.
Pak Me Dan (1994). childrenchoir and children stringorchestra. written for the 150th of the SKVR. text: Harri't van Reek. commission by het Prins Bernhard Fonds.
Burn Out (1994). musical box. written for VPRO Radio.
Gecrasht (1994). 2 electric guitars, 2 percussionists en basclarinet. written for de Composer's Boys. commissioned by het Fonds voor de Scheppende Toonkunst.
Kontrafakt (1994). basclarinet, piano, synthesizer and The Lick Machine (can be replaced by tape). written for Michiel Scheen and Hein Pijnenburg.
The World as Seen From the Moon, Part I (1995). written for het Rotterdams Klarinet Kwartet. commisssioned by het Fonds voor de Scheppende Toonkunst.
Sic (1995). written for het Maarten Altena Ensemble. altclarinet, recorder, violin, electric guitar, trombone, piano, double bass and drums. commissioned by de VPRO radio.
The World as Seen From the Moon, Part II (1995). written for Sepp Grotenhuis. piano. commission by de Rotterdamse Kunststichting.
Arcade-Space Mutants (1996). written for Orkest de Volharding.
The Mix (1996). Solo performance with danceable music with voicebox and thunderharp.
Other work:
Reconstruction:

Jagdstück of Michael von Biel (1986). (together with Huba de Graaff). "Die musik soll Freude und Spass machen".

Organisation:

Ko-Ko dagen (1987). (together with Huba de Graaff). A concert for which 70 composers were asked to write a piece in three days. A lottery ticket determined for which of the 14 ensembles the composer had to write. Two videoteams visited the composers at home to do an interview, whether they were working or not. This resulted in 34 shortly composed works (in english it would have been called the Sho-Co days).
Het Pokon (1993/1994). (together with Huba de Graaff, Marion de Laat, Ad van der Koog and Pay-Uun Hiu). A series of concerts in which composers were challenged to publicly enter into an experiment which musicians.
KroKo-konserten (1995/1996). (together with Huba de Graaff, de IJsbreker en KunstKanaal).
The Man with the Camera (1997). (together with Frank van Berkel). Movie of Dziga Vertov for which ten composers wrote the music, guided by the recently found guidelines of Vertov.

Multimedia:

Het omnimediumcircuit (1988). (together with Huba de Graaff and Henk Wijtman). A multimediaspectacle in which the audience can experience the influence of media on daily life in a very direct fashion.
6585/vloer 1/1 (1989). (together with Michiel Duvekot). An interactive sound-installation with computers, moving speakers and light.
Vuur transport (1989). Electronic music tele-communicated by means of firemodulation (instead of electric wire).

Music for Theatre:

Het huwelijk (1988). "Het Huwelijk" (the Marriage) of Witold Gombrowicz. tape and churchorgan, electric guitar and helicon. performed by "Paleis Toneel Theater" (P.T.T).

Musictheater:

Geschiedenis (1990). "Geschiedenis" (History) of Witold Gombrowicz, choir , childrenchoir, violin, cello, trumpet, tuba, 2 percussionists, clavinet,tape, electric guitar & thunderharp. Performed by "de Pragmatici". commissioned by het Fonds voor de Scheppende Toonkunst.
Elektra Orestes (1995/96). based on Euripides. Text: Erik Ward Geerlings. voices, electric guitar, keyboard, bass, drums and percussion. a production of FACT.
STUcK (1996/97). on texts of John Cale, Peter Handtke, Arlène Hoornweg, Pauline Kalker. Synthesizers, samples, electric guitars, tapes, thunderharp, voiceboxes and voices. A production of de Republiek (in Felix Meritis).

Filmmusic:

Buster (1991). piano, written for the movie "Man & Kat" of Pieter Jan Smit. commissioned by het Fonds voor de Scheppende Toonkunst
Ecce homo (1991). basflute, violin & percussion, written for the movie "Ecce Homo" of René Hazekamp.
Kist (1991). double bass. written for the video "Wat zit er in de kist" of Pauline Kalker.
Psychopolis (1992). synthesizer, written for the movie "Zwaanshals" of Pieter Jan Smit.
InOnIt (1992). computer, synthesizer and churchorgan, written for the movie "Wanna Get In On It" of René Hazekamp.
Hell Bent (1993). strinquartet, double bass and electric guitar. written for the movie "Hunt Down" of René Hazekamp.

Music for Dance:

Full_Kon.Tak (1995). computers, sensors, synthesizers and thunderharp. commissioned by de Rotterdamse Kunststichting.
The Brain: (Arthur Sauer and Paul de Jong) a.o.
Buizen (1985). for scaffoldingpipes.
De uitvaart van Amy Driscol (1985). installation.
Strijd (1986/87). tape.
Pangs of the earhead (1987). for cello, guitar, tape, computer, pipes, lithophones and stamppits.
VUK (1988). 6 hour concert with 8 musicians with diverse musical backgrounds.

Bands

Kleg (1996). four electric guitars, thunderharp, bassguitar and drums.
The Link (1997). With David Dramm, Alan Laurillard and Jim Meneses.
TEC (1997). with Henk Bakker, Huib Emmer and Frans Friedrich.
---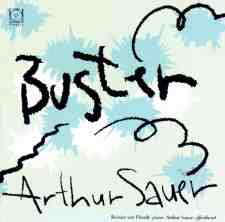 Buster
---
To reach the composer:
On-line: arthur@sauer.demon.nl
By telephone: +31 10 495 0996
By pager (Holland only): 06 59 699 888
By physical mail: Quarantaineweg 1 d1, 3086 KP Rotterdam, Netherlands
---