To all visitors: Kalvos & Damian is now a historical site reflecting nonpop
from 1995-2005. No updates have been made since a special program in 2015.


Chronicle of the NonPop Revolution
---
Composer Profiles
---
Don Stewart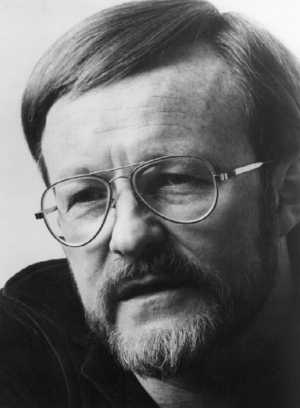 Don Stewart
Listen to this show


---
Don Stewart
Click here

for RealAudio3 Interview with Don Stewart, 1:45/205K. (
RA2/14.4 version
)
Click here

for RealAudio version of
Short Sonata for Sax and Piano
, conclusion. 1:11/71K.
Click here

for TrueSpeech version of
Short Sonata
, 74K.
Click here

for MPEG-2 version of
Short Sonata
, 276K.
---
Don Stewart was born in Northern Illinois in 1935, worked in New York for many years, and since 1969 has lived in Vermont. He studied at Indiana University with Roy Harris and Bernhard Heiden, and later with Gunther Schuller at the Manhattan School. He is well known as a clarinettist, and since 1959 he has composed seriously if not voluminously (about one piece a year) and now publishes his own works. His music derives from many of today's trends -- serialism, jazz, etc. -- but to some large degree is also rooted in the procedures of the past.
Don lives in Tunbridge, Vermont. He founded the Trillenium Music Company, offering carefully prepared performing editions of classical and new music using the Score computerized notation system. In 1993 he received the Paul Revere award for Graphic Excellence from the Music Publishers Association.
---
Representative musical compositions:
Seven Little Etudes for Orchestral Woodwind Section, Op. 23.

A Book of Sliding Things for Eight Trombones, Op. 31.

Gesualdo Stanzas for Flute/Piccolo, 5 Saxophones, 4 Trumpets, 4 Trombones, Guitar, Piano, Bass and Drums, Op. 32.

August Lions for Youth Orchestra, Op. 16.

Piccolo Concerto Op. 11.

First Blue Symphony for Large Orchestra, Op. 27.

Second Quintet for Winds, Op. 30.

The Song of Arion for Harp and Wind Quintet, Op. 26.

Short Sonata for Alto Sax and Piano, Op. 14. Commissioned by Editions Salabert.

S.Q.Encoded for Saxophone Quartet, Op. 15. Commissioned by Editions Salabert.

First Sonata for Horn and Piano, Op. 19.

String Quartet No. 1, Op. 2.

Second Quartet for String Quartet, Op. 25.

Burke Mountain Buttercup for Flute, Clarinet, and Two Cellos, Op. 10.

Brass Quintet, Op. 6.

---
To reach the composer: telephone 802-889-3354
By email: don@trillmusic.com
By physical mail: Box 65, Tunbridge, Vermont 05077
---