---
Composer Profiles
---
P. Kellach Waddle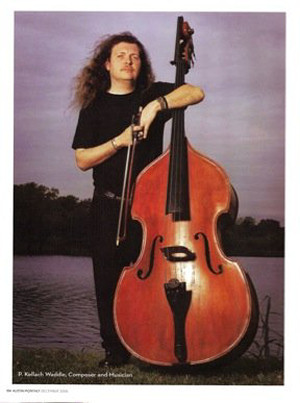 P. Kellach Waddle
---
Listen to this show


---
P. Kellach Waddle
---
Pulitzer-Prize nominated composer P.Kellach Waddle maintains an active career not only as a composer but also as a bassist, conductor and writer. With over 270 performances of his music by the end of the '01-'02 season, and a list of completed works nearing the 140 mark, Mr. Waddle continues to maintain a career as one of the most performed and prolific composers of his generation. His works have been performed in 30 states and in 11 countries on 3 continents and radio features/interviews with him have been heard on classical radio stations in Texas, North Carolina, Kentucky and Tennessee and Vermont . A performance by Mr. Waddle of his Op. 1 #1, the bass caprice De Salones Espanoles, marked the first hearing of his music on National Public Radio as part of its Music From Roundtop Series in 1993.
After the major debut of Mr. Waddle's music for the bass at the 1986 International Bass Symposium the list of bassists he has written or is writing for reads like a Who's Who of the instrument including Bert Turetsky, David Neubert, Michael Cameron, Jeff Bradetich, Francois Rabbath, Sidney King, Hal Robinson, Jessica Gilliam-Valls and Paul Ellison among others. Mr. Waddle's music was first published in 1991 and while still adding to his own instrument's repertoire, his medium has expanded considerably. His list of works now contains nearly three dozen duets and trios (many including the bass), several pieces for instrument and piano, 10 pieces for solo winds and brass, 3 choral works, 2 song cycles, 3 orchestral (non-concerto) works, a recent set of piano works (3 ballades, a fantasy and a suite), solo guitar, organ, a recent set of three pieces commissioned by the contrabassoon virtuoso Sue Nigro, works for trombone quartet, saxophone quartet, saxophone choir, tuba choir and a series of concertos for "unusual" instruments not usually thought of in a solo context including bassoon, contrabassoon, bass, tenor saxophone and bass trombone. The premiere of this latter concerto marked Mr. Waddle's NYC conducting debut with its premiere at the Julliard School in February 1999.
Beginning with a lauded performance of his tenor Saxophone concerto with the organization in 1997, Mr. Waddle is now Principal Guest Conductor of the Contemporary Youth Orchestra of Cleveland and maintains a special relationship with the orchestra through his current seven year series of composing a concerto each season for featured members of the Cleveland Orchestra. The first piece in this series, a double concerto for Horn, Cello and Orchestra composed for Principal Horn Richard King and his wife Julie and premiered in Dec. of 1999 has already received nationwide acclaim through its hearings on NPR and a number of other radio features. The premiere of the most work in the series, a double concerto for Two Cellos and Orchestra occurred in Dec. of 2001. It was for this piece that Mr. Waddle garnered a nomination for the 2002 Pulitzer Prize in Music. Other works in development for future seasons include double concertos for trumpet, trombone & orchestra and clarinet, violin & orchestra.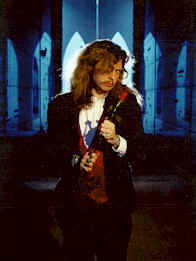 P. Kellach Waddle
Mr. Waddle's music for bass has been performed by himself and others at a number of notable events for the instrument including the 1986 ISB Symposium in Austin, Texas, The 1987 Midwest Bass Symposium in Champaign-Urbana, The 1990 Bass Symposium at NYU, The 1990 Cincinnati Summer Bass School, and the 1996 and 97 Texas Bass Symposiums in Austin and Dallas. The extensive list of U.S. music schools which have seen concerts of or have scheduled performances of Mr. Waddle's music include Rice University, Julliard, Eastman, Hartt, Yale, Manhattan School of Music, Indiana University, The University Of Texas, The University Of Miami, Cincinnati Conservatory, The Harid Conservatory, Victoria College, The University of Akron, Harvard University, University of Louisville, Mannes School of Music, Western Kentucky University, Northwestern University, Pan-American University, The University of Evansville, Del Mar College, Franklin Pierce College and The Cleveland Institute of Music.
Mr. Waddle has also been a participant in many major music festivals, among them the AIMS Festival in Graz, Austria (Principal Bass and Resident Chamber Music Composer, 1987), The Pacific Music Festival in Sapporo, Japan (Section Bass 1992), The Roundtop Festival (Principal Bass and Resident Chamber Music Composer 1993), The National Festival of Music/ National Repertory Orchestra in Breckenridge Colorado (Asst. Principal Bass and Resident Chamber Music Composer, 1994), and The Hot Springs Music Festival in Hot Springs, Arkansas (Principal Bass , 1997 and 98, Resident Composer 1998.)
Mr. Waddle's years in academia have included stints on both sides of the lectern. As a teacher he has served as Adjunct Professor of Theory and History at the University Of Louisville summer semesters 1984-88 and in the fall of 1996, Visiting Professor of Theory and History at Victoria College 1987-88, Asst. Teacher of Bass at the University of Texas from 1992 to 1998 and Guest Lecturer on Politics in Music at Rice University in 1991. As a student Mr. Waddle has received Minors in Opera History and Viola from Cincinnati Conservatory in 1987, Bachelor's Degrees in Art History and Bass Performance in 1992 as well as a Minor in Cognitive Linguistics from Rice University in 1992 and Master's Degrees in Bass Performance and Composition from The University of Texas in 1998. During Mr. Waddle's tenure at the University of Texas he served as Principal Bass of the UT Symphony, Solo-Bassist of the UT New Music Ensemble (a highlight of which was Mr. Waddle's performance on a highly acclaimed recording of George Crumb's Madrigals for Soprano, Bass and Vibes), and Principal Bass of the UT Wind Ensemble culminating in his performance with the group in February 1998 in new works in Carnegie Hall.
Mr. Waddle has studied with every bassist he has written for on either a master class or long-term basis plus Edgar Meyer, Jon Deak, Gary Karr, and Stewart Sankey among others. His composition teachers have included Steven Montague, Donald Grantham, Karl Korte and Robert Ward. Inspired by the careers of such bass luminaries as Francois Rabbath, Jon Deak, and Frank Proto, Mr. Waddle actively pursues careers not only as a composer for the instrument but also as a bass soloist and orchestral musician. As a soloist Mr. Waddle first began pursuing opportunities as a soloist with orchestra in 1993 after winning the University Of Texas Concerto Competition marking the first time in more than a decade the contest was won by a bassist. Since then he has performed his own Bass Concerto, the transcription of the Mozart Bassoon Concerto and in the coming months will premiere the new bass concerto written for him by Carson P. Cooman. As a recitalist, Mr. Waddle not only plays concerts of standard repertoire but also continues an emphasis on contemporary music. In this vein he performed more than 20 recitals in the 1997-98 season in a series of works written especially for him by members of the University of Texas Chapter of The Society of Composers International, an organization which Mr. Waddle served as Performer's Chair. Beginning in the 2001-2 season he added a dual emphasis on the works of J. S. Bach performing the entire series of Courantes from the Bach Cello Suites on a number of lauded recitals and is now preparing a program of the entire suites' Minuets, Bourees and Gavottes. He will continue this pursuit in more concerts focusing on movements of these works throughout the next several seasons, with 12 more Bach recitals scheduled for the next two years as of Spring 2002. Mr. Waddle also plans to continue a series concerts dedicated to accompanied music from the Baroque repertoire following a praised concert of 6 sonatas for continuo and bass with accompanist Martha Dudgeon in October of 2001. As an orchestral musician he has not only been a member of the summer festival orchestras listed earlier but has also has had an extensive career in professional orchestras beginning with a position in the Bowling Green Symphony which he held during 1985. Since then his positions have included Section Bass the Lexington Philharmonic (1986-87), Principal Bass of the Galveston Symphony, (1988-92), Asst. Principal Bass of The Corpus Christi Symphony (1987-88), Co-Principal Bass of the Bravos Valley Symphony (2000- present) and Section Bass of the Austin Symphony (1992- present.)
Mr. Waddle has academic publications to his credit including papers on Strauss' Salome and The Cello Suites of J.S. Bach. He has been an active pit musician throughout his career having played with over three dozen musical theater productions and has himself directed award-winning productions of Pippin and They're Playing Our Song. Mr. Waddle now also maintains an active career on the other side of the podium. After a lauded performance of his tenor saxophone concerto in 1996 during the South Carolina Conductor/Composer Symposium he was invited to Cleveland for the position named above and served as the Associate Conductor of The Amadeus Chamber Orchestra of Austin, Texas for the 1997-98 season. In June of 1999 Mr. Waddle was named Music Director/Conductor of The Austin Philharmonic. He left this position to devote more time to his busy solo and writing careers this season, being named Conductor Laureate of that organization in Sept. of 2001.
Reviews of Mr. Waddle's music include his first notable critique from a concert review in Nuevo Laredo, Mexico in 1988: ".. with this endless flow of lovely melodies along with virtuosic display Mr. Waddle seems to be trying to turn the unwieldy double-bass into some sort of Chopin-esque vehicle….and given his youth he seems to be already well on his way to succeeding.."
On a more personal note, Mr. Waddle continues to quell the notion that classical musicians are dogmatic purveyors of austere personas. A native Kentuckian, Mr. Waddle's speaking voice was noted during a 1988 Houston radio interview as "sounding like some hillbilly who got a jolt of genius-IQ moonshine." Also noted from an article during the same time period was this following anecdote related by Mr. Waddle: " I was chatting with a gentleman outside a church where there was about to be a concert of some of my sacred music. Noting my odd attire (jeans with a tailcoat, a bolo tie and cowboy boots) this nice elderly fellow began telling me how nice it was for people like ME, who obviously was not a classical music fan, not only to be at church at all, but to be at a concert. I merely smiled and pointed out that the composer was very involved in his church from the bio in the program. The man noted that he had heard some of Mr. Waddle's lovely music before, after which I bade him good day and hoped we both enjoyed the concert. .. It was a very big thrill to watch the man's jaw drop when I was introduced at the beginning of the concert AS the composer." Mr. Waddle has been a club musician as a singer and bassist in many blues, pop, soul and country bands throughout his career ( including a handful of concerts singing with Grammy-Award winning country artist Larry Gatlin) and is proud to have amassed more than 60 karaoke contest wins.
His building career in entertainment journalism also continues to thrive. Mr. Waddle, now an expert of growing exposure in the field of Daytime Drama has consulted on a number of books and articles on Soap Operas and has written articles under his own by-line for Soap Opera Magazine and Soap Opera News. After a stint as a weekly columnist writing daytime drama analysis on the web entitled "The Serial Bowl" at Soap Opera Criticism - Suite101.com, Mr. Waddle now writes one of the most noted weekly columns in the industry having been named columnist in August 2001 for Soap Opera Weekly's "Critical Condition" which is read by five million people each week. After a three-year-plus stint as an employee of America Online/ Nick-At-Nite Online serving as a chat room host and resident trivia expert fielding subscriber's queries about Classic Television, Mr. Waddle has now has taken a similar position with the Movies Channel on America Online where he will runs chats and contributes short pieces about the Broadway and Movie scenes. Mr. Waddle served also a pop, soul, classical and country CD critic for the web magazine ACCESSTOTHEMUSICZONE for nearly four years before taking a position as a Classical CD reviewer for Classical Hub.Com . He has also published more than 200 other pieces on books and movies as a freelancer and is also a lauded poet with more than 75 small and feature-length publication of poetry among his long list of writing credits.
Finally , as another eclectic pursuit added to Mr. Waddle's busy existence, he became a licensed Blackjack dealer in July of 2001 and is in training to be a roulette croupier and is employed by Casino Connections of Austin, Texas.
---
---
To reach the composer:
On-line: GusMahler2@aol.com
By telephone/fax:
By physical mail:
---