---
Emergency Funding Required for
Kalvos & Damian's New Music Bazaar
Both Special Projects and Ongoing Programs Need Support
---
Emergency funding for the Kalvos & Damian cybercast project was needed before September 4, 1998, in the sum of $6,000. We did not reach the goal, but have gone ahead with the project. Your support is crucial to seeing the costs through of this remarkable 5-hour cybercast that took place simultaneously from Amsterdam and Vermont on September 12, 1998.
Our cybercast did not find major corporate or government sponsorship to date, so we are asking for a contribution from the entire K&D public -- our supporters, users of our site, those who have received help or advice or listings, companies who wish to be associated with this new and interesting project, and even our guests. A pledge in the amount of $100 is requested to Contact Form, with a check mailed to K&D as soon as possible (made out to "VCME/Kalvos & Damian", to Dennis Báthory-Kitsz, 176 Cox Brook Road, Northfield, Vermont 05663 USA).
The aim of this fund drive is to make this and future cybercast projects successful, including an upcoming 25th anniversary series of the Gimik Ensemble in Fall 2000 and SEAMUS 2000 and 2001.
We hope that you will help make up the difference with this critically important, leading-edge cybercast, and future ones. We will list your names (unless you wish anonymity) in the project as personal or company sponsors. You will have the satisfaction of helping create the new world of global intercommunication, from its beginning, outside the channels of commercial networks. As with so many important innovations, the world-wide web 'dream' has to start at the grass roots.
Explanations, background and budget and statistics follow on this page.

---
The Project
To the AmsterDramm Cybercast Page [closed]
Background
---

The AmsterDramm Project


The AmsterDramm Project is the first in a series of on-location cybercasts hosted by Kalvos & Damian's New Music Bazaar. Composer David Dramm has organized this special concert for K&D at STEIM, Europe's leading electroacoustic/electronic music concert hall. Dramm was joined by several composers for the event, including Anne La Berge, with guest appearances by Louis Andriessen, Ruth Dreier, and Nick Didkovsky and special interviews with Jacqueline Oskamp, Frances-Marie Uitti, and Philip Mechanicus.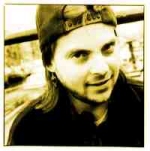 The AmsterDramm Project is assisted by STEIM, VuurWerk Internet for technical operations and Kanner Internet for cybercasting distribution. K&D receives technical support from WGDR and Goddard College, but has approximately $6,000 in additional requirements:
An ISDN line installation and minimum one-month fee
Several hours of trans-Atlantic phone charges for the program and testing
An upgraded telephone bridge to handle the signal exchange
Travel and housing expenses for the testing and cybercasting dates
Miscellaneous computer, cabling, and labor costs
Budget for Kalvos & Damian's New Music Bazaar to host the cybercast on September 12:
ISDN line           $1,250
Phone charges       $1,500
Telephone bridge    $2,500
Travel/housing      $  750
Miscellaneous       $  500
TOTAL               $6,500
For additional information on the participants and support organizations for the AmsterDramm projects, see the Project Page.

---

Final Schedule
1830 GMT / 2:30 EDT
Show intro and Damian's essay
Introductions
David Dramm and Analecta on CD: Walk the Plank
David Dramm live: Passacaglia
David Dramm live: Ladder
Talk
---
1905 GMT / 3:05 EDT
Talk with Jacqueline Oskamp
David Dramm on CD: Vin Scully
David Dramm live: I Hate My Dog
Huib Emmer and experimental techno
Huib Emmer: Positief Zweet
---
1935 GMT / 3:35 EDT
Talk with Louis Andriessen about ensemble culture
Louis Andriessen on CD: Hout
Talk with David Dramm and Louis Andriessen
David Dramm on CD: High Octane, third movement
Talk with David Dramm
---
2010 GMT / 4:10 EDT
Talk with Ruth Dreier
Ruth Dreier live mix improvisation
Talk with David Dramm and Anne La Berge
David Dramm and Anne La Berge live

Black Whale
Bolero
Bad Day Fishing
Little Betty Falling Star
---
2050 GMT / 4:50 EDT
Art Songs
Talk with David Dramm and Philip Mechanicus
David Dramm solo live: Hello Pop Tart
Tomoko Mukaiyama on CD: Hello Pop Tart
Talk
David Dramm Art-as-Art
---
2120 GMT / 5:20 EDT
Anne La Berge and Nick Didkovsky
Talk
Anne La Berge live: Thrash & Variations
Anne La Berge live: fixiation
Commentary from Nick Didkovsky
Nick Didkovsky on CD: Orion
Kevin Whitehead tells the 'Tuck' story
---
2205 GMT / 6:05 EDT
Talk with Frances-Marie Uitti
Frances-Marie Uitti: Three Improvisations (recorded).
Talk with Clarence Barlow
---
2240 GMT / 6:40 EDT
Arrangements by David Dramm
Talk with David Dramm
John Cale: Dying On The Vine
Junkie XL: Metrolike/Saturday Night Kick
David Dramm solo live: San Antonio Rose
---
2310 GMT / 7:10 EDT
Talk with David Dramm
David Dramm on CD: Beebe Lake Ice Cut
---
Cybercast ends approximately 2330 GMT / 7:30 EDT
---

---

What is Kalvos & Damian's New Music Bazaar?
Kalvos & Damian's New Music Bazaar is a radio show and website bringing composers to the wider world through their music, interviews, mentoring, pictures, photos, artwork, essays, biographies, attitudes, catalogs and ideas. Despite the "Bazaar" in its name, K&D doesn't sell anything, and isn't a commercial venture of any kind. The Bazaar presents the eclectic world of newly composed music in a try-it-you'll-like-it format, connects composers with each other and with audiences, and develops special programs for schools and organizations. The Bazaar is sponsored by organizations in our Vermont home -- WGDR-FM Community Radio, the Consortium of Vermont Composers, the Vermont Contemporary Music Ensemble, and Goddard College, and is produced by Malted/Media Productions.

---

What are the K&D projects?
Kalvos & Damian are always stretching for ways to bring all kinds of listeners to today's concert, chamber, electroacoustic, and performance music. Among them...

The K&D Weekly Broadcast/Cybercast. The heart of Kalvos & Damian's New Music Bazaar is the weekly program that presents new music and interviews, with new releases, essays, and special mixes and collages. The program's web resources include weekly and seasonal playlists and record labels played on the show.
Special Cybercasts. K&D produces special programs. Upcoming is a September 12 live program from Amsterdam and one from the San Jose SEAMUS 1999 conference.
Composer Mentoring. In cooperation with arts and education organizations and schools, K&D brings composers online to guide schoolchildren in writing music. More than two dozen composers have participated in the K&D/WebProject effort, with composers and software selected by K&D. In addition, composer Maria de Alvear will come from Germany this fall to do live mentoring as part of the K&D program.
Live Concerts. In-studio concerts open to the public and broadcast live bring one of the great traditions of broadcast radio to the Internet. K&D has presented live in-studio concerts by Pauline Oliveros, Rip Keller, Anita Beckmann, and Barbara Wellspring, as well as a complete opera written and produced by the students of Middlebury College.
On-Line Archives. Music and interview clips appear on K&D composer pages, and nearly 100 complete interviews with composers are archived in the largest on-line resource of its kind.
Music Resources. K&D maintains lists of more than 1,500 resources in new music and composer sites that are unparalleled on the Net. We include only sites we have visited that are valuable to composers and to those searching for information on living composers.
The K&D Tours. Vermont is isolated, so K&D travels to artistic centers. Interview tours have included Toronto, New York City, and an Amsterdam-Cologne-Paris-Brussels loop. When Kalvos or Damian travel individually, they also collect interviews. In the works now are tours of Montréal, New York City, and San Francisco.
Composer Pages. Unique composer pages are part of the K&D project. Not only are music and interview clips included on most pages, but we also present composers' writings, many found only on the K&D website.

---

Who are Kalvos and Damian?

---

What is available on the K&D site?
You're invited to look around, especially at the individual composer pages. Start at the New Music Bazaar homepage itself, or the list of all the composers and performers who've been on the show. There's the greatest set of music resources for composers you'll find on the net, plus a good list of what sites composers themselves have been creating. We're a radio show, so you can steal musical ideas from our extensive playlists, which are linked to an index of record company websites and email addresses where you can get the audio goodies -- and, best of all, you can listen to complete, two hour broadcasts. If you're in a playful mood, try the graffiti page, where about 200 anonymous buttons will take you to music, photos, commentary, essays, graphics, and other interesting artistic objects on the web (to which you're welcome to contribute). The Best of the Bazaar offers sound mixes and splices culled from our shows and worked into Damian's unique audio art objects, and you can read his introductory essays to the show or order show cassettes. Finally, since we're on the ground in beautiful rural Vermont, we give some space to our sponsors, the Vermont Composers Consortium, their clever newsletter Consorting, the talented Vermont Contemporary Music Ensemble, and Goddard College.

---

Where can I hear the Bazaar?
The Bazaar is broadcast live every Saturday afternoon from 2:30 to 4:30 (1830 to 2030 GMT) on WGDR in Central Vermont on 91.1 FM and via our live cybercast.You can hear our most recent shows on AudioNet a month after our live broadcast, and a complete archive is here on KalvoNet. Check out our homepage for regular announcements as archived shows are posted. We can also be heard on WOMR 92.1 FM in Provincetown, Massachusetts, and other radio stations will also be carrying the Bazaar in the next year.

---

What Support is Sought?
Support requested for Kalvos & Damian's New Music Bazaar includes financing of special projects. Among them:

The SEAMUS cybercast.
Other special cybercasts.
Composer Mentoring.
Live concerts.
Interview tours.
Resource maintenance.
Equipment upgrades.
New music library.
Ongoing special projects with immediate needs.

Monetary support, new recordings, and in-kind supplies and labor (PC equipment, CDRs, DATs, etc.) are invited. Contributions are made to the Kalvos & Damian Program Fund of the 501(c)3 tax-exempt VCME. Contributions can be forwarded directly to Dennis Báthory-Kitsz, Kalvos & Damian's New Music Bazaar, 176 Cox Brook Road, Northfield, Vermont 05663 USA, made out to "VCME/Kalvos & Damian". Contact Contact Form for information.

---

Outcomes: The K&D Goals
Many media projects -- especially those on the web -- are 'hobby' projects or fan sites. Kalvos & Damian's New Music Bazaar is a serious effort to create a live and archived look at composers and music composition at the end of the century. We measure our effectiveness by the volume of email we exchange, the quality of the email, honest site 'numbers', and valuable acknowledgments of our work.

Both the New York Times and the Village Voice have noted K&D's resources; the Times devoted a sidebar to the K&D show on Conlon Nancarrow. We have won the site of the week award from Klassik Online (December 15, 1997) and a four-star award from Luckman's Best of the Web (August 19, 1997). Our site is accessible by W3C standards.

The K&D counter is not a so-called "hit counter". We record only one visit per host -- no matter how many pages, graphics, or sounds are used from the site. Our counter only records a single visit as people browse our pages. We use statistics to provide a better picture than counters. For example, statistics show (for August 17) that 838 'hits' were logged to files on just one of our four default homepages (formerly http://maltedmedia.com/kalvos/, http://maltedmedia.com/kalvos/kalvos.html, http://www.goddard.edu/wgdr/kalvos/, http://www.goddard.edu/wgdr/kalvos/kalvos.html, and http://sun.goddard.edu/students/wgdr/kalvos/kalvos.html), but fewer than 100 true visits were recorded for the day.

---


Measurement by Site Size, August 20, 1998
Audio files (music, interview clips, and archived shows)
627
Control files for audio
559
Text files ("pages")
476
Graphics files (images with "content")
304
Graphics files (design graphics, icons, and navigation)
152
Program files
12
Scores
5
Videos
1
TOTAL
2,136
Total Bytes
2,434,905,409 (2.27GB)

---


Measurement by Website Visitors, April 1, 1997-August 20, 1998
Unique Visitors
46,689

---


Measurement by Email, November 25, 1996-August 20, 1998
Guests
6,197
Email/web resource submissions (ca. 40/month, not filed)
1,440
Between Kalvos and Damian (excludes forwarded mail)
1,078
Mentoring project (other than composer correspondence)
1,058
General visitor support (short exchanges)
534
Extended visitor support (long threads)
426
Link/information/materials submissions
376
Planning and publicity
289
Distribution of information
152
Uncategorized general email
123
Technical Issues
87
AmsterDramm cybercast
82
Mail in queue for answering
66
Archiving crisis (March 1998)
61
Labels/Presenters
40
SEAMUS cybercast
32
TOTAL
12,041

---

AmsterDramm Project Sponsors
AmsterDramm is a trans-Atlantic project and worldwide cybercast with assistance from:

Europe: Gaudeamus - STEIM - VuurWerk - Donemus

USA: MaltedMedia - WGDR - Goddard

---
The AmsterDramm Project is funded by
DoDaDa Idea Co.
Several anonymous contributors
---
Kalvos & Damian's Advisory Board
---